23 July 2013
The next tallest building on Earth has finally broken ground, setting in motion the most ambitious built-environment business manoeuvre in years, writes Rod Sweet
Broad Group, the air-conditioning-giant-turned-builder, has finally started construction on what it says will be the world's tallest building, Sky City, a 208-storey steel-framed residential tower in Changsha, Hunan Province.
Reaching 838m, it will be 10m taller than Dubai's Burj Khalifa.
More surprising than its height is the speed at which Broad Group proposes to build it.
The Burj took five years, but Broad says Sky City will be topped out by April 2014 – eight months from now – and will be finished a month or two later.
Behind such an eye-popping speed is Broad's system of total prefabrication and military-style logistics.
On a smaller scale, Broad did something similar with the 30-storey New Ark Hotel at Dongting Lake near Changsha, built in just 15 days. (See it on video.)
The company's chairman, Zhang Yue, who bet big on unconventional absorption-chilling technology for his air conditioners and was China's 210th richest man last year according to Forbes, heaps yet more fabulous claims on Sky City.
He says his building will use a only fifth of the energy consumed by conventional towers.
It will be able to survive an earthquake of magnitude nine on the Richter scale.
The air inside will be 20 times purer than the smoggy air of industrial Changsha.
And it will cost a fraction of what the Burj cost.
Construction was supposed to start in November last year and be finished by now but government approvals were slow in coming, prompting many to wonder if Broad's fantastic claims would ever be put to the test. But on Saturday came reports that the groundbreaking ceremony had finally taken place.
Why do it?
The news sparked concerns that such a big building erected so fast could happen only by sacrificing safety and quality.
Mr Zhang, or Chairman Zhang, as employees call him, dismisses such concerns.
Thanks to prefabrication, Sky City, a 208-storey steel-framed residential tower in Changsha, is scheduled for completion in under one year
What doesn't get asked, however, is why he would build Sky City in the first place. It's an interesting question because, as a property play, Sky City is weird.
It's planned to be 83% residential in a largely industrial city far from the millionaires of Guangdong.
Around 7,000 apartments will provide homes for 17,400 people. Just 5% of the space will be a hotel, and the remaining 12% is divided between schools, healthcare and office uses, as well as shops and restaurants.
How it will make money is not clear, and Broad Group is financing it itself to the tune of $838m, according to reports. (The Burj cost $1.5bn.)
Number one home builder
The real point of Sky City is not Sky City. Zhang Yue is driven by a vision of sustainable urban residential development and a vast commercial proposition – safe, efficient, affordable housing in China and all over the world.
To maintain harmony, China must find a way of accommodating the millions who flock to cities every year in search of economic betterment. To that end it plans to build 36 million social housing units by 2015, at a cost of nearly $800bn.
The government sees prefabrication as the way forward, but precast concrete is the reigning method, and mid- and high-rise steel frame residential construction is not accommodated by building regulations.
Mr Zhang's ultimate game is to be number one home builder, but with prefabricated steel, he's betting on an outside chance.
It's not the first time.
In 1988 he and his brother bet on absorption-chilling technology for their air conditioners. The technology works by using natural gas or other fuel to heat a refrigerant liquid, and is far less common than compressor refrigeration technology, which uses electricity.
Broad's "non-electric" air-conditioning is more expensive to buy but cheaper to run, and has clear advantages in places where electricity is expensive or unreliable.
The Zhang brothers bet big on absorption and won: Broad ships its units all over the world.
Now Mr Zhang wants to roll out Broad's steel prefab model across China.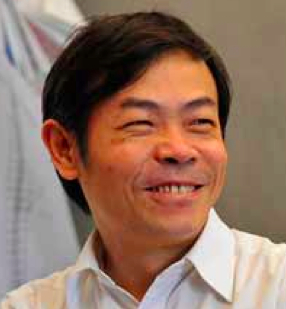 Broad Group chairman, Zhang Yue
In an interview with International Construction Review, GCR's predecessor, last year, Mr Zhang said Broad employed 5,000 skilled technicians in its prefabrication plants in Changsha.
He said Broad now has franchises in six Chinese provinces, and plans to have one in every Chinese province.
But he doesn't want to stop there.
"Ultimately," he said, "I hope we will be able to supply 30% of the global construction market."
Titanic gesture
Mr Zhang has won global recognition for his approach to building, which, he told us, was inspired by the devastating 7.9-magnitude earthquake in Sichuan province in 2008. More than 80,000 people died in that event, many from the collapse of badly constructed buildings.
In 2009 Broad put up a prototype building in three days in Changsha and asked the UN to come and see it.
In its 2010 report on the Sichuan earthquake, the United Nations Environment Programme (UNEP) singled out Broad's prefabricated steel method as exemplary for safety, affordability and sustainability.
That same year, at the UN's international climate change conference in Cancun, Broad erected a multi-storey pavilion in eight days, winning lavish praise from the conference host, Mexican president Felipe Calderón.
In 2011 Zhang Yue was named a Champion of the Earth by UNEP.
This is all very exciting, but not enough inside China to guarantee the chunk of the housing market Mr Zhang wants.
To capture imagination in a vast market and to get the necessary regulatory alignment from the centre, Mr Zhang evidently feels a titanic gesture is needed.
Sky City is such a gesture.
Its top selling points (air quality, earthquake safety) will sound off-key to a Western property developer, but they push very sensitive buttons for Chinese people.
Its energy efficiency and high-density approach (unseasonably dense, perhaps, for Western tastes) tick urgent boxes for planners and regulators in China, where space and resources are scarce.
From inception, Sky City has been the most ambitious built-environment business manoeuvre in years.
Now that it's happening, we can see if it works.