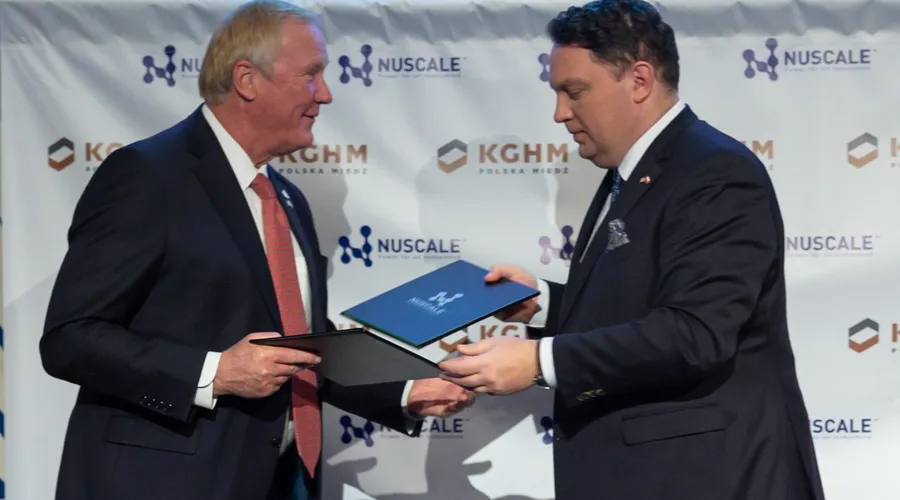 The governments of the US and Poland have agreed a deal to deploy small modular reactors (SMRs) made by American engineer NuScale in eastern Europe. The deal was signed in Washington, DC, by representatives of the two governments and the companies involved.
The plan is to use nuclear power to run mines owned by KGHM, which controls the largest copper deposit in Europe, located in southwest Poland.
Under the agreement, Portland-based NuScale will look to deploy its 77MW VOYGR power plant as early as 2029, which NuScale said would help Poland avoid up to 8 million tons of carbon dioxide emissions a year.
The first task under the agreement will be to identify potential project sites, plan the project and estimate costs.
NuScale said the latest deal "marks a significant milestone in NuScale's progress towards commercialisation and advancing clean, reliable, and affordable energy in Poland".
"In the global race to rapidly decrease emissions worldwide NuScale's technology presents the perfect solution to reach this goal while simultaneously bringing economic prosperity to host countries," said John Hopkins, NuScale's chief executive.
NuScale Power, which is majority owned by Florida-based engineer Fluor, is the only nuclear developer to have received design approval from the US Nuclear Regulatory Commission for an SMR design.