A team that includes Dutch designer Office for Metropolitan Architecture and Italy's Laboratorio Permanente has won a competition to redevelop two disused railway yards in Milan.
As part of the "Climatic Agents" project, the Scalo Farini yard in the north of the city will become a green zone and San Cristoforo, in the south, will become a blue zone.
The Scalo Farini green zone will contain a park which will cool hot winds coming from the southwest. At the San Cristoforo blue zone, a large basin will clean the groundwater and create a landscape for humans and animals.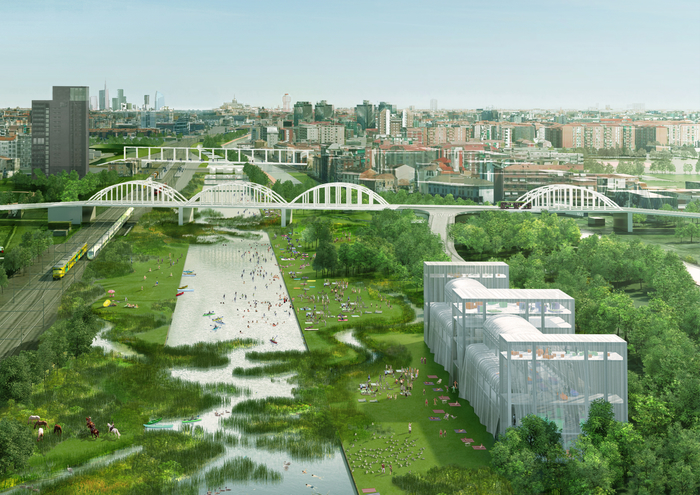 OMA says the two sites will act as "ecological filters" for Milan, helping to provide "clean air and water" and address "climate change and pollution on a metropolitan scale".
Ippolito Pestellini Laparelli, a partner in OMA, said: "In a moment of dramatic environmental transformation and permanent economic uncertainty, our priorities have changed. The most valuable currency is no longer 'brick' – the built – but rather the climatic conditions that cities will be able to provide and ensure for their citizens.
"The city of the twentieth century, with its high energy consumption, must be overcome by reconsidering the principles that have marked urban development since the classical era."
The competition was run by three Italian public transport companies, the municipality of Milan, the Lombardy region and developer Coima. The finalists in the competition included Arup, Grimshaw and Kengo Kuma.
Images courtesy of OMA