A study by an Indonesian university has warned that more than a 25% of Jakarta's metropolitan area could be underwater by 2025.
The study, carried out by the Bandung Institute of Technology, found that the threat was posed more by the city sinking than sea levels rising. The metropolis, which is home to 13 million people, is located on a swamp, and had 13 rivers running through it.
The subsidence is causes by a combination of poorly regulated groundwater abstraction, loose alluvial soils and a superabundance of concrete and asphalt that prevents rainwater being absorbed into the ground.
Research by the Institute's Geodesy Research Division has shown that subsidence began in 1975. The worst affected areas are in the north of the city, with the Pluit suburb falling by 4m.
The division's research was backed up by a University of Indonesia study into changes in the city's microgravity over the past five years. Syamsu Rosid, a geophysicist at the university, said this revealed an alarming rate of land subsidence, especially in North Jakarta.
He told the Jakarta Post: "North Jakarta is sinking approximately 11cm a year because of human activities, especially over exploitation of groundwater."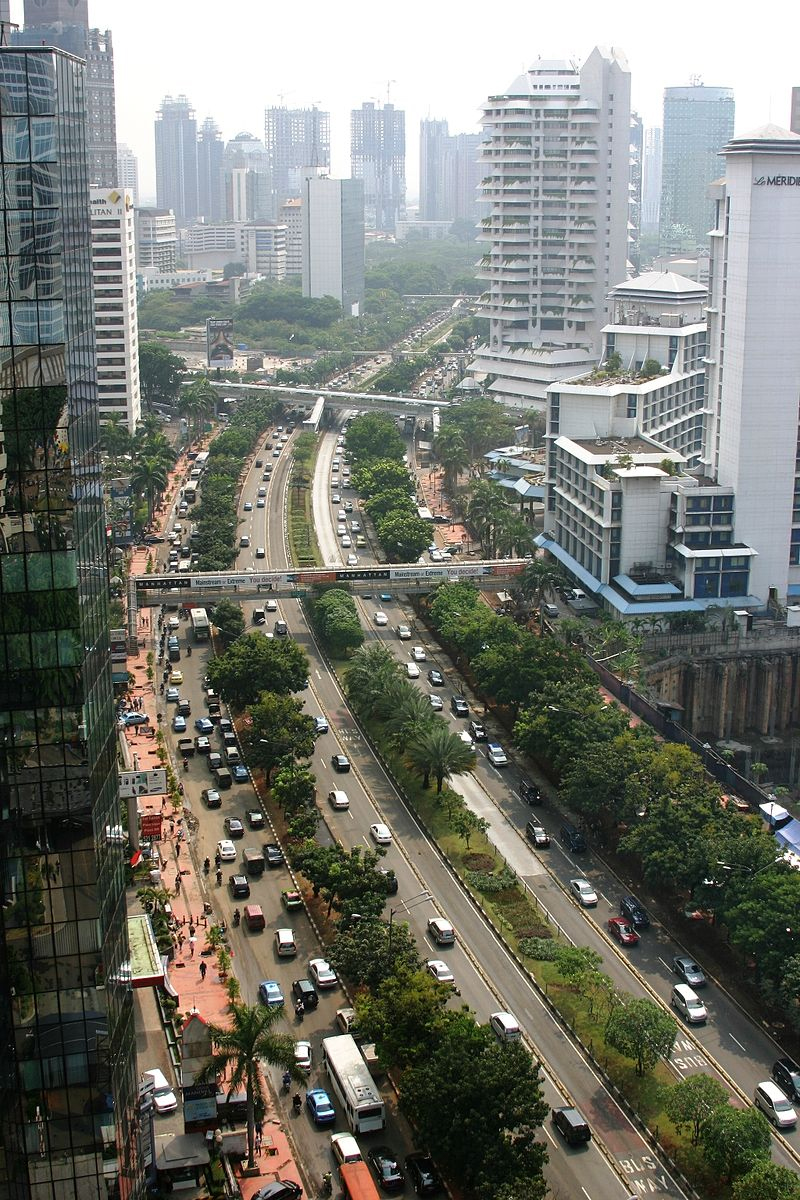 Jalan Jenderal Sudirman, Jakarta's main avenue and business district. The city is facing gridlock by 2020 (Sanko/CC BY 3.0)
Jakarta is seeking to meet the threat by increasing its sea defences as part of the National Capital Integrated Coastal Development (NCICD) in Jakarta Bay. The East Jakarta Water Resource Agency has announced that it plans to install two mobile water pumps in the Cakung River to alleviate flooding in the east of the city. The pumps would be capable of moving 200 litres of water a second.
However, the idea of migrating the capital away from its present site in northern Java has been under discussion since 1975.
Last year, it was reported that Joko Widodo, the country's president, had asked the National Development Planning Agency to carry out a feasibility study for possible locations, citing Palangkaraya on the island of Borneo as a possible option.
As well as the problem of subsidence, the city is facing traffic gridlock – a legacy of its breakneck unplanned growth in the sixties and seventies. Â 
Top image: The Sudirman Central Business District (Muhammad Rasyid Prabowo/CC BY 2.0)
Further reading: