The government of Pakistan has approved the expenditure of nearly $1bn on three strategic highways as part of the China-Pakistan Economic Corridor (CPEC).
The roads will be financed by loans from China now being negotiated, reports Pakistan's Express Tribune newspaper.
They include:
A $183m road stretching 110km between Basima and Khuzdar in the mountainous Balochistan province in the southwest of the country.
A 210km dual-carriageway between Yarik and Zhob, also in Balochistan, costing $726m. This is due to be completed in 2020.
A $76m road stretching 280km from Raikot to Thakot. This will involve the reconstruction and upgrading of a portion of the famous Karakoram Highway which runs to the Chinese border. This road will also help Pakistan's efforts to develop hydropower in the area.
In total, the CPEC envisages the reconstruction of 870km of roads in Balochistan as part of the $11bn "Western Alignment" programme of projects, which follow the general route of the Karakoram. If all goes according to plan, this will eventually create six-lane motorways running through northwestern Punjab, Khyber Pakhtunkhwa and Balochistan.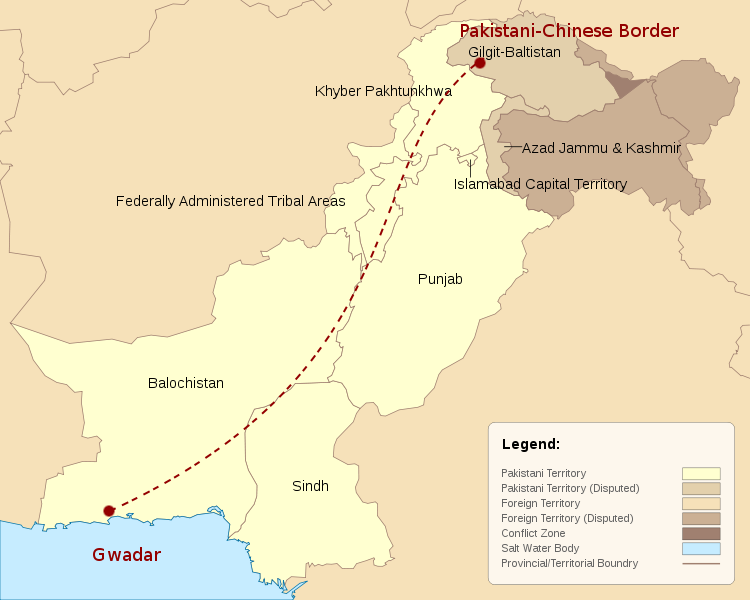 The approximate route of the corridor
Work on the corridor began in 2014. As well as dealing with some of the most challenging terrain on earth, workers have had to face attacks from groups hostile to the Pakistani state. GCR reported in September 2016 that 44 workers had been killed by roadside bombs and attacks on construction sites.
Part of China's global One Belt, One Road plan, CPEC envisages a rail and road network, oil and gas pipelines, and fibre-optic cables running from western China through Pakistan to Gwadar, a strategic port on the Arabian Sea.
The corridor will help economic development in Balochistan, which one of the poorest areas in Pakistan. It will also provide China with strategic access to the Indian Ocean, reducing its dependence on its Pacific ports. The route allows China to bypass India, with which it has had cool relations.
The total estimated cost of CPEC projects has risen from $46bn in 2015 to $62bn, according to Express Tribune.
Top image: Trucks on the Karakoram Highway (Katorisis)Â Â  Â 
Further Reading: