Structural work on the world's longest sea crossing, which spans the Pearl River Estuary linking Hong Kong in the east to Macau and Zhuhai, finished last week.
Road surfacing work has now started on the 55-km bridge-and-tunnel link, which will cut the drive time from Hong Kong to Macau and Zhuhai from three hours to just 30 minutes.
Construction began in 2009 on the record-breaking structure, which was conceived in 2003 as a way of speeding traffic between the manufacturing powerhouse of Guangdong province and the commercial and logistics hub of Hong Kong.
European engineers Cowi and Arup were involved in its design, while French conglomerate Bouygues worked on one of the sections.
Reported to cost more than $17bn, the six-lane roadway structure breaks two records.
Its 29.6km bridge is now the world's longest bridge over water, unseating former record-holder Jiaozhou Bay Bridge, also in China, which is 26.7km long.
And its aggregate length of 55km, including a 6.7km undersea tunnel, artificial islands and spurs to Macau and the city of Zhuhai, beats the aggregate length (41.6km) of the Jiaozhou Bay crossing.
Officials gathered for a ceremony in Zhuhai on 27 September to celebrate the structure's completion and mark the start of road surfacing and related work, news agency Xinhua reports.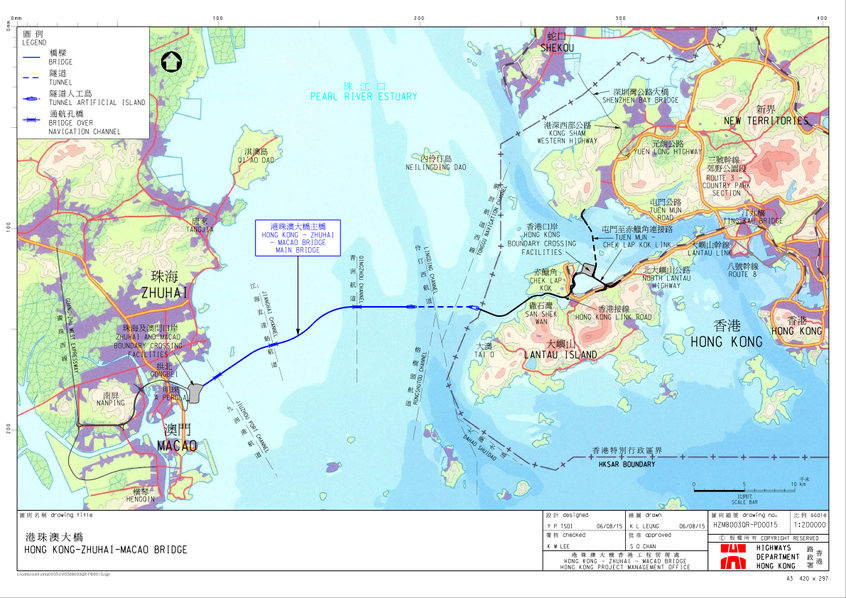 Map shows route and shipping channels of the record-breaking, 55km sea crossing, built to speed traffic between the manufacturing powerhouse of Guangdong province and the commercial and logistics hub of Hong Kong (http://www.hzmb.hk)
According to Xinhua, more than 400,000 tonnes of steel were used for the tunnel and bridge, enough to build 60 Eiffel Towers.
Last year UK newspaper The Guardian dubbed the megastructure one of the "seven wonders of the modern world".
Construction teams had to cope with a number of challenging conditions, including heavy ship traffic: the Pearl River Estuary is one of the world's busiest shipping routes, with more than 4,000 vessels crossing the structure's path every day.
A number of engineering firsts were also recorded. Officials said it was the first time China built an immersed tube tunnel in open waters.
Two artificial islands made of steel pillars were created to connect the bridge, the first time this process has ever been used, Xinhua reported.
China's profile as a global leader in engineering and technology will be boosted by the bridge, the chief engineer of its administration bureau told Xinhua.
"The 'China technology' and 'China standard' set by the Hong Kong-Zhuhai-Macao Bridge will influence the world market," said chief engineer Su Quanke.
Top image:Artist's render of a section of the Hong Kong-Zhuhai-Macao Bridge, built by subsidiaries of France's Bouygues (via Bouygues)