Dutch health technology firm Royal Philips has signed a seven-year agreement to build Ethiopia's first specialised cardiac hospital with the governments of Ethiopia and the Netherlands.
The first project of its kind for Philips, the €40m agreement announced today sees it delivering a complete hospital (rendered above) for diagnosis and treatment of cardiac diseases to address a critical shortage in Ethiopia.
Ethiopia's young new health minister said the facility, and the transfer of expertise, would transform cardiac treatment in the country, where thousands are on waiting lists for treatment of preventable diseases.
Scheduled for completion in mid-2020, the 7-storey, 7,200-sq-m building will have three operating rooms, two catheterisation labs, 94 beds, and full diagnostic and examination suites, Philips said.
Called the Cardiac Care Center, it will be built at the existing Tikur Anbessa Specialized Hospital (TASH) in Addis Ababa, the country's capital.
Philips is responsible for the full turnkey design, construction, equipping and commissioning, as well as staff education and equipment maintenance for five years after completion.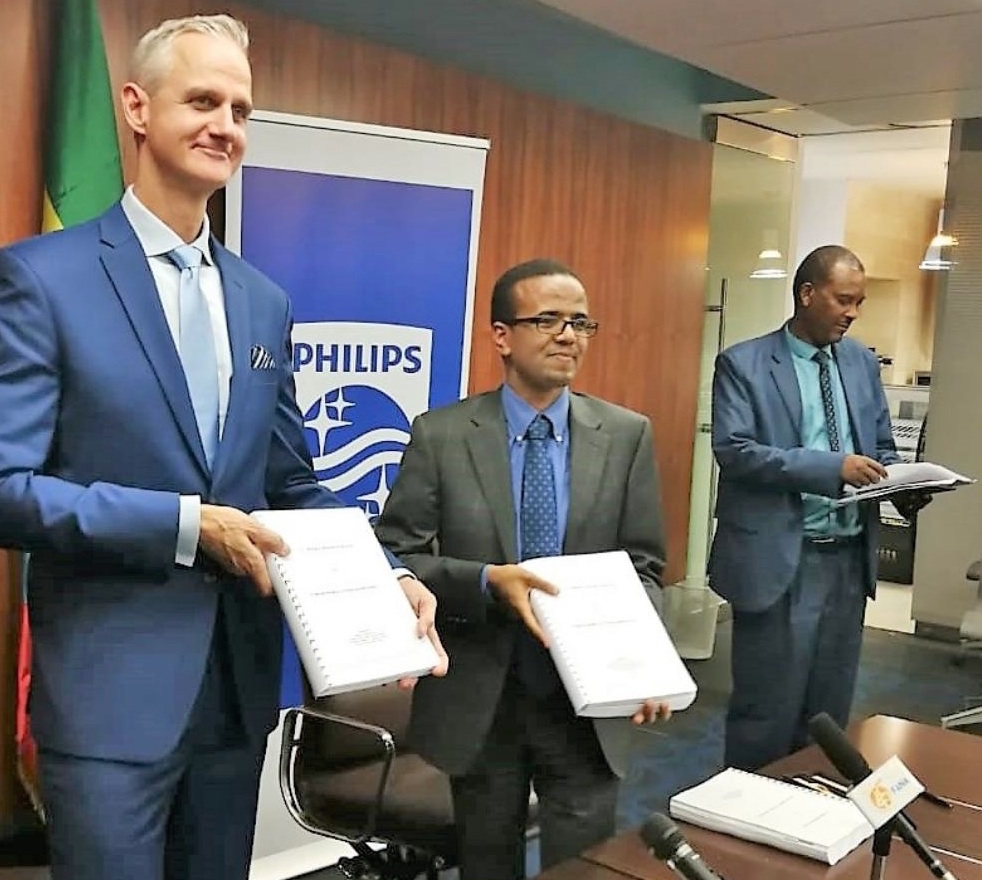 Jasper Westerink, CEO of Philips Africa, left, and Ethiopia's young health minister, Dr. Ato Amir Aman, at the agreement's signing (Philips)
"This is a unique project for Philips globally as we are creating an entire turnkey hospital solution," said Jasper Westerink, CEO of Philips Africa.
Ethiopia's more-than 100 million citizens currently have no access to a continually functioning cardiac center, and suffer disproportionately from rheumatic heart disease, which is often caused by non-treated throat infections, Philips observed, adding that it is the leading cause of acquired heart disease among children and young adults in the country.
At Tikur Anbessa hospital there is a waiting list of over 8,000 patients for cardiac care.
Under the agreement Philips will also renovate an existing floor of the TASH hospital, starting next month, to bolster its cardiac care capabilities before the new hospital is built.
The plan is to have a dedicated cardiology operating theatre and intensive care unit there by the end of the year.
Ethiopia's new health minister Dr. Ato Amir Aman – who, at 30, is among a wave of young leaders in the country – said the agreement would help transform cardiology care in Ethiopia.
"Through this strategic collaboration, TASH will have access to Philips' health technologies and services, as well as clinical education, IT integration and data analytics, allowing us to fully redesign our care processes for cardiology interventions," he said.
The government of the Netherlands is helping to fund the project, which includes a specialist cardiology training program with the University of Cape Town to develop the Ethiopian surgical team.
Top image: A render of the new cardiac hospital Philips will build in Addis Ababa, Ethiopia (Philips)