Researchers at the University of South Florida have developed a prefabricated sewage treatment module that can turn human waste into clean water, renewable energy and fertiliser.
The idea is to deploy them in developing countries where urbanisation has outrun a city's ability to provide basic services.
The front-end of the NEWgenerator system is a community ablution block made from a modified shipping container. This contain toilets and washbasins, and does not have to be hooked up to a water source or a sewer pipe.
The back-end mimics a miniature wastewater treatment plant but without the energy-intensive aeration tank that is used to oxidise waste. Rather, the system uses anaerobic microorganisms to turn faeces into the biogas that it uses to power itself.
Clean water is produced with the help of a membrane fine enough to filter out bacteria and viruses and the same chlorine treatment that is used in a municipal drinking water plant. The recycled water can be used for toilet flushing and irrigation.
The fertiliser is based on nitrogen and phosphorus, and can be used on community gardens, or sold to generate revenue.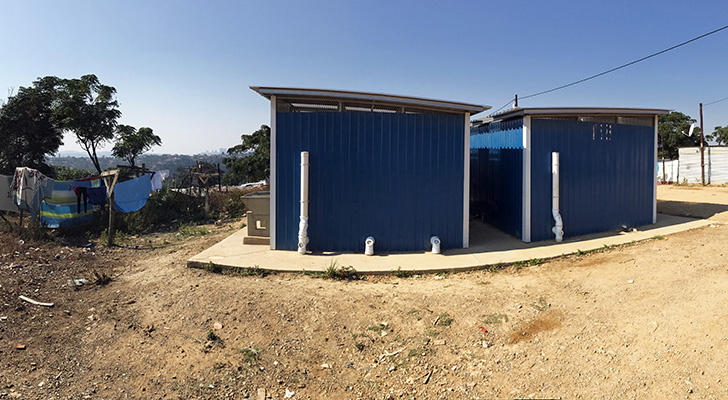 Two ablution block made from modified shipping containers (Daniel Yeh)
A version of the concept has been trialled in India, and now an upgraded version is to be installed in Durban, South Africa.
The project is being led by Daniel Yeh, an associate professor at the university's college of engineering, and Robert Bair, a postdoctoral researcher.
They aim to install two NEWgenerator units at the beginning of next year. One is an updated version of a unit that was used in India in 2016, and provides service to 100 users a day. That unit was connected to two electronic toilets, but in South Africa, it will be connected to an ablution block. The second unit will aim to increase the capacity of the NEWgenerator by an order of magnitude and serve 1,000 users a day.
Top image: The waste treatment plants are extremely compact (Daniel Yeh)
Further Reading: