19 June 2013
A boardroom drama at Australia's biggest contractor, the global heavyweight Leighton Holdings, appeared to be resolved today with the appointment of three new independent board members.
The three, who bring combined experience in government policy, engineering, and banking, replace former chair Stephen Johns and two non-executive directors who resigned in March over what they called a power grab by Leighton's parent, Germany's Hochtief.
The new non-executive directors are Russell Higgins, former head of Australia's department of industry, science and resources, civil engineer Mike Hutchinson, and banking and labour market expert Vickki McFadden.
Leighton's interests include Habtoor Leighton Group, which built the new Zayed University campus in Abu Dhabi through a joint venture with Murray & Roberts (Credit: Leighton)
Their appointments will help restore confidence in Leighton, whose share price fell 7% after March's boardroom turmoil, which caused analysts to worry about the company's independence from indebted Hochtief, and also from Hochtief's major shareholder, the even-more-indebted Grupo ACS of Spain.
Standard and Poor's (S&P) put Leighton on a negative credit watch after the shock departures, spooked by the prospect of ACS, through Hochtief, helping itself to Leighton's prized earnings.
On 6 June S&P took Leighton off negative credit watch but said "concerns about the limited separation between Leighton and its parent remain".
The appointments appear to restore a power balance to the board of Leighton, which has been fighting for its independence since the troubled giant Grupo ACS completed its hostile takeover of Hochtief in 2011.
Bob Humphris
Hochtief has been a major shareholder of Leighton since 1983 but the successful Australian contractor's independence had been preserved by informal protocols.
"These appointments refresh the board with new and varied talent and restore the board's independence in line with the principles that have governed the relationship between Leighton and its major shareholder Hochtief for several decades," said Leighton board chairman Bob Humphris.
The board now has five independent directors including Mr Humphris, who holds a casting vote. Two executive directors are drawn from Leighton management, and three non-executive directors are appointed by Hochtief – these include Hochtief CEO Marcelino Fernández Verdes.
Two positions remain vacant. An independent position is open but the board decided to postpone filling it while the new directors settle in, and Hochtief has also elected not to fill its vacant non-executive director seat.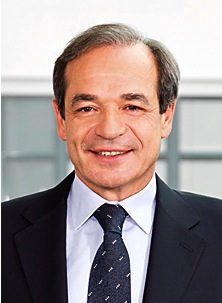 Marcelino Fernández Verdes
Russell Higgins was formerly secretary and chief executive officer of Australia's Department of Industry, Science and Resources from 1997 to 2002 and executive chairman of the Australian government's Energy Task Force from 2003 to 2004. He is a former chairman of the Global Carbon Capture and Storage Institute.
Mike Hutchinson is a civil engineer and formerly an international transport engineering consultant. He has been a senior official with the Australian government in its transport, communications, and finance departments.
Vickki McFadden has experience in the skilled labour market across most industry sectors in finance, law and corporate finance transactions. Previously, Ms McFadden was managing director of investment banking at Merrill Lynch in Australia.
Leighton Holdings owns a number of operating companies including Thiess, John Holland, and Leighton Asia, India and Offshore. The Leighton Group also has a 45% investment in the Habtoor Leighton Group. These companies operate in more than 20 countries and employ more than 57,000 employees.