The government of Iraq has approved a strategy to increase its electricity supply to 41GW by 2025, the Zawya business news site reports.
The country's installed capacity was around 28GW in 2020, so the realisation of the plan will require a rapid increase in new power projects. However, demand for power is expected also to reach 41GW over the next three years, so the programme is essential for Iraq's economic and social stability.
In recent weeks, Iraq has concluded deals with Iran and Saudi Arabia to import electricity. In the former case, a long-term deal was signed to buy Iran's surplus power; Iranian companies are also involved in Iraqi projects with a total output of 1.7GW. In the latter case, Iraq signed a deal with Saudi Arabia on 15 July to connect national grids. This is expected to add 1GW to Iraq's supply capacity.
However, the government's plan is aimed at achieving self-sufficiency in power consumption.
According to Zawya, which was quoting Arab-language Aliqtisad news site, the strategy is based on new electricity and solar power projects, the expansion of existing power plants, the upgrading of transmission and distribution networks and the completion of stalled projects.
Over the past year, the country has awarded power projects to a number of foreign firms and there are plans to finalise similar contracts in the near future.
The largest of these was with French oil company TotalEnergies, signed in September last year. This envisaged a $10bn first phase that would increase oil output, construct a gas plant and develop a 1GW solar farm (see further reading).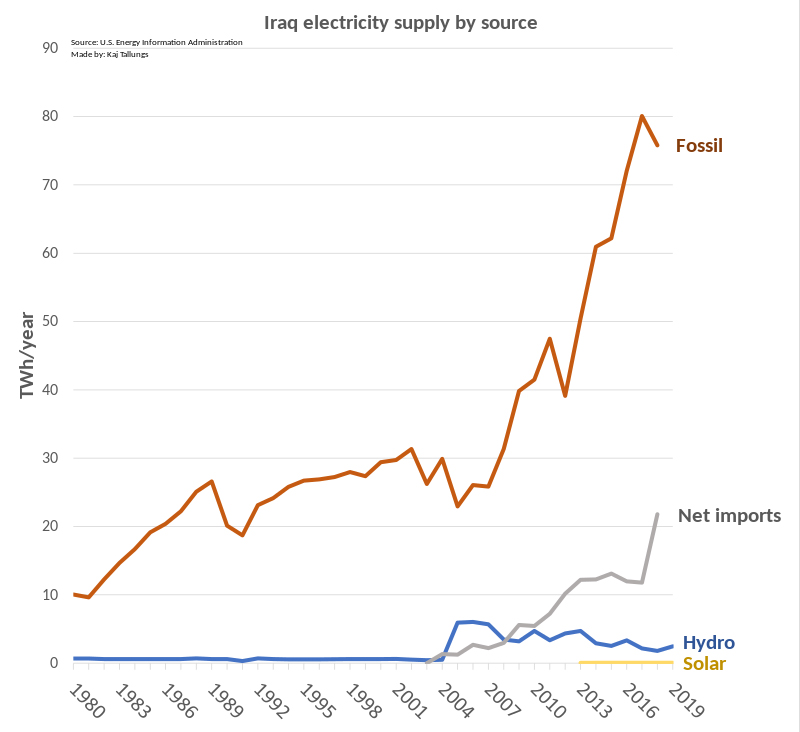 The plant is aimed at using gas produced as a by-product of oil extraction. In 2017, Iraq flared more than 600 billion cubic feet of natural gas, making it second only to Russia.
Another noteworthy project was the deal agreed with the UAE's Masdar in June last year, which had the goal of installing up to 10GW of solar power sites by 2025. In the past, Iraq has done little to put its abundant supply of sunshine to work (see figure).
In the longer term, Iraq is hoping to build three nuclear power plants, to which end it is in talks with Russia, France and the US.
Electricity generation has been, arguably, the most important metric in Iraq's post-war reconstruction efforts, and has been directly linked to social unrest in the country.
A report published in May in the Gulf International Forum commented: "The past 19 years have seen [the Iraqi electricity sector] weakened by severe corruption and gross negligence. The plans put forth by the government to tackle the lack of electricity have more often proven an easy way for officials to embezzle funds than a way to improve the lives of Iraqi citizens."
Constant black and brown-outs have contributed to the government's inability to provide other public services, such as healthcare and air travel. Last year, protestors stormed power stations in Baghdad and Diyala, and late in June 2021, Majed Mahdi Hantoosh, became the 18th consecutive electricity minister to resign during summer.
Another issue is insurgent attacks on the transmission network. According to Deutsche Welle, up to 70 electricity pylons were sabotaged last year in an attempt to destabilise the country.
Iraq's summer temperatures can top 50°C, making access to air-conditioning and electric fans a matter of life and death. Adding to the pressure is the likely increase in the need for cooling in response to global warming, and the rapid growth in Iraq's population. Some estimates put the likely growth in future demand at 10% a year.
Ali al-Saffar, an analyst with the Paris-based International Energy Agency, told Deutsche Welle: "It's like a perfect storm. It's not only the technical situation, there are non-technical factors, and political and economic reasons too."