Three winners and multiple honourable mentions have been selected by judges for eVolo Magazine's 2020 Skyscraper Competition.
The winning submission was "Epidemic Babel" by D Lee, Gavin Shen, Weiyuan Xu and Xinhao Yuan from China.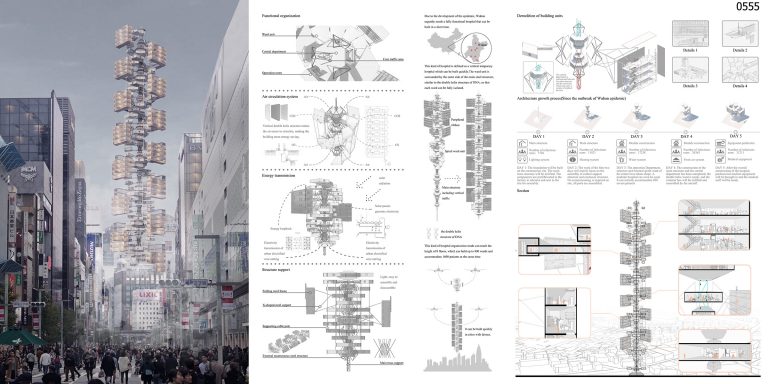 Epidemic Babel
Conceived as a response to the coronavirus pandemic, Epidemic Babel is a healthcare skyscraper that can be assembled in five days in response to sudden outbreaks of contagious diseases. The system works by fitting pods into a steel frame, which has a small footprint to make it easier to site.

Egalitarian Nature
In second place was "Egalitarian Nature" by Yutian Tang and Yuntao Xu from the US. This forms a vertical mountain in the centre of a city, creating space for residents to hike or climb. The team said it aimed to reclaim the skyscraper – changing it from an "object of power and a symbol of wealth" to a green space for everyone.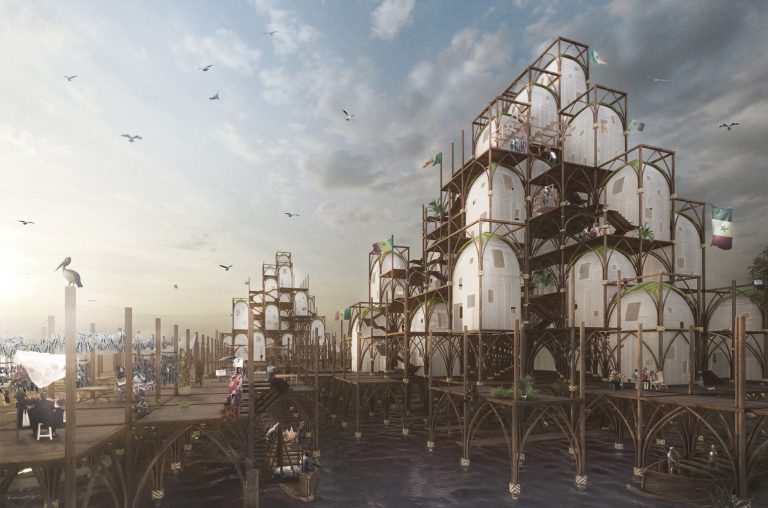 Coastal Breakwater Community
"Coastal Breakwater Community", designed by Charles Tzu Wei Chiang and Alejandro Moreno Guerrero from Taiwan, was placed third. The project reimagines housing for fishermen in St Louis, Senegal, who have been forced to move inland by rising sea levels.
The tower has a pillar base to prevent erosion by seawater, and once built can be adapted and extended. The design is inspired by a style of arched wooden architecture that is traditional in Senegal.
In 2019, Marko Dragicevic's "Methanescraper", won the competition. In 2018, the winner was a foldable tower designed by a Polish team of Damian Granosik, Jakub Kulisa and Piotr Panczyk.
Top image: Epidemic Babel (Images courtesy of eVolo)