A new high-end student accommodation is nearing completion in Glasgow made from pre-manufactured steel boxes made and fitted out completely in China.
Called "True Glasgow West End", the 592-room complex taking shape on a former industrial site by the River Clyde borrows both its branding approach and luxury standards from the hotel business.
At a time when the UK construction industry is under pressure to modernise with pre-manufacturing techniques, its developer says the modular approach isn't cheaper, but does cut build time by up to 20%, improves health and safety, and ensures finished quality as predictably as car manufacturing.
Everything in the room is sourced and fitted by China International Marine Containers (CIMC) except the TV and the bed mattress, which are added later.
"The bed is in, the flooring is in, the curtains are in, the desk is in, the lights are in, even the desk chair and the waste-paper bin," said Marc Carter, managing director of developer True Student Ltd. "Everything is included. When the modules arrive we fit a mattress made in the UK and we fit a TV, because that's too fragile to ship."
Build time is up to 20% shorter (True Student)
With a stated gross development value of £65m ($81m), True Glasgow West End will try and lure students with hotel-standard rooms and funky communal spaces including a cinema, cafe and a mezzanine-level library from which students can zip down to the games room by way of a helter-skelter-style slide.
Resentful parents
True Student is a new subsidiary of hospitality developer Bricks Capital, which has built hotels in the UK for Hilton, Marriott and Holiday Inn. The company used the modular system for three hotels and decided it would work well for student accommodation, since the end product is similar.
Bricks Capital launched True Student in November 2016 as a way of branding its student accommodation the way hotel chains brand their hotels.
It also settled on a luxury offering. "If I've had any criticism it's that we're giving students too much of a good thing," Carter told GCR. "The quality of what they're staying in is rather nicer than what their parents had 30 years ago at university. Sometimes there's a bit of resentment about that, but it's unashamedly high-quality, premium accommodation for the discerning student."
Everything built in, including the kitchen sink (True Student)
True Glasgow West End will be True Student's second development, after one in Newcastle finished in 2015, and is Bricks Capital's largest modular project, at 340,000 square feet.
Work on site began in April 2016 and in September this year, students will move in.
Amazingly demanding
With a background in residential development, Carter says the modular technique is "cost neutral" compared to conventional methods – in other words, not demonstrably cheaper. But there are distinct advantages. He says the build time is 10-20% shorter, depending on site specifics. Pre-manufacturing also means better health and safety management, because there are fewer people on site moving things around.
Another big advantage is what Carter called "absolute consistency" in terms of the finished product. "I've got 592 rooms which I know will be of the standard we require."
This is also where the company wants to imitate the standards of branded hotels.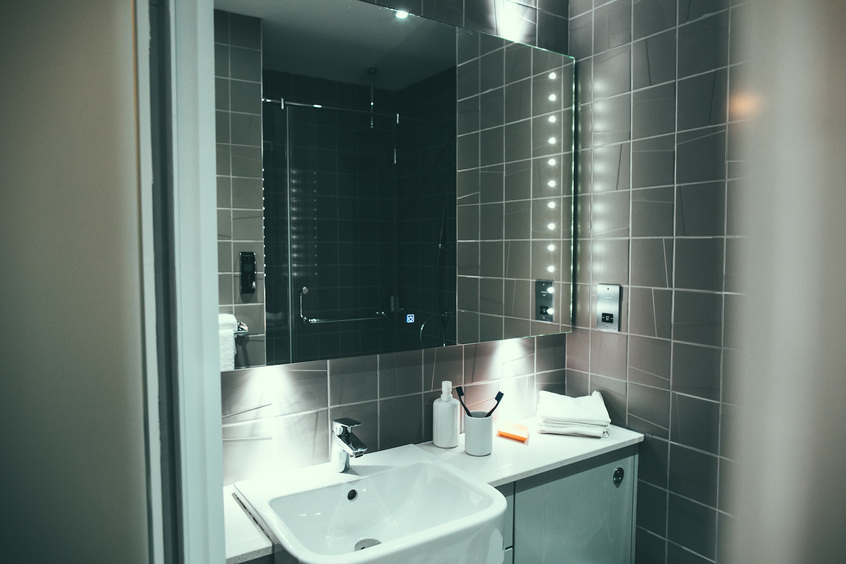 Not like when we were at university (True Student)
"If you build something for Hilton, or Marriott or for ISG, it's incredibly prescriptive and amazingly demanding," Carter said.
"For them to put their label on the outside of your hotel, you have to fulfil those brand standards, and we've got a similar take on the student market. And being made in a factory, these things are checked much like a car would be coming off the production line. So the inconsistencies one would see in a traditional construction methodology don't exist."
Not really a shipping container
Carter believes that the manufacturer, CIMC, a vast conglomerate that makes "about half the world's shipping containers", is on the cusp of a world-wide boom in modular construction. He said the company has done several pre-manufactured hotels with various partners, some mining villages in Australia, and a few other student accommodations. "They haven't scaled up that much yet, but I think they've found their feet now and in the next five to 10 years will dominate the global market for this type of product," Carter said.
He points out that the modules are not actually shipping containers with holes cut out for windows. Like shipping containers, they are fabricated steel boxes, but made to True Student's dimensions, and with the necessary structural attachments.
"The principle is that it's absolutely bespoke," he said. "It's entirely our design. They make us a prototype, we'll go to China and look at it and squeeze it and kick it and try and pull it apart, and they take the approved prototype and start producing."
Artist's impression of the finished complex in Glasgow (True Student)
The modules do not require secondary frames. A system developed with consulting engineer Arup allows the boxes to connect together, so that when they are connected to each other and to a steel or reinforced concrete lift or stair core, they achieve independent structural stability, and need only to be clad as any other building.
Military precision
Getting the modules from the factory in China to their place in the structure is like a military operation, Carter says. The ship arrives from China at Southampton, on England's south coast. Because the modules are larger than a shipping container, they are last in, and first out. Then they are loaded onto lorries and trucked north approximately 425 miles to Glasgow. There, a 500-tonne mobile crane lifts them into place.
"For about nine weeks we had eight to 10 units arriving every day," Carter said. "Managing that process is pretty military in terms of organisation. With the size and weight of the module the risk is always in the lifting, so you don't want to do it too many times. Off the ship onto the lorry, off the lorry into place, is the preferred way. It's a sight to behold."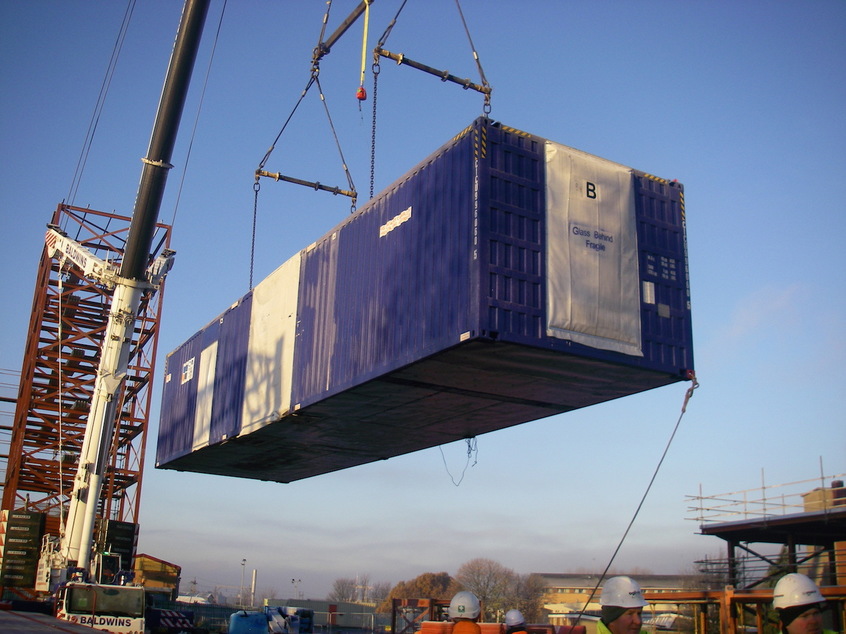 Lifting is the risky bit (True Student)
True Glasgow West End will be seven storeys in height, although the system allows up to 15 storeys.
The company has immediate plans for two more student developments in the UK using modular.
"We just bought another site in Glasgow, where we hope to stack to 11 storeys," Carter said.
Meanwhile, work on another site in Birmingham, nine storeys in height, begins in April.
Top image: Inside a prototype pre-manufactured room (True Student)