The Getty Foundation has awarded grants as part of its "Keeping It Modern" initiative, aiming to preserve 20th Century architecture.
The Getty Foundation received 90 inquiries from applicants in 2020, the 13 chosen were: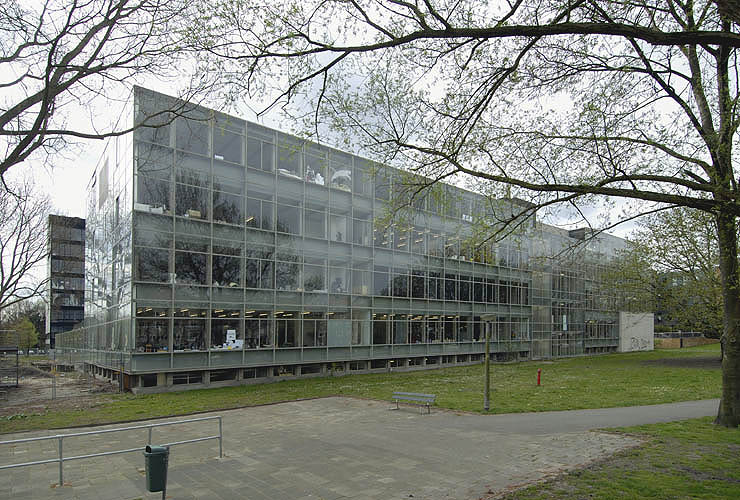 Rietveld Academie (Amsterdam Municipal Department for the Preservation and Restoration of Historic Buildings and Sites (bMA))
Rietveld Academie, Amsterdam, Netherlands (architect: Gerrit Rietveld, 1963): €175,000 will preserve the building's original fabric and develop new solutions that accommodate modern-day educational technology and energy efficiency standards.
Swimming Pools, Leça, Portugal (architect: Álvaro Siza, 1966): €100,000 will be spent on concrete repair and the development of a conservation management plan.
International Fairgrounds, Dakar, Senegal (architects: Jean-François Lamoureux and Jean-Louis Marin, 1974): Funding will be used to create a conservation management plan for the complex, collaborating with local Senegalese professionals and architectural students, with the findings planning to be used on other Senegalese West African modernist structures in need of long-term conservation.
Kuwait Towers, Kuwait City, Kuwait (architect: Malene Bjørn, 1976): A team will conduct a technical study to identify the underlying problem behind the disc detachments and develop conservation protocols for carrying out repairs and maintenance.
Monasterio Benedictino de la Santísima Trinidad de las Condes (Planillo/CC BY-SA 4.0)
Monasterio Benedictino de la Santísima Trinidad de las Condes, Santiago, Chile (architects: Brother Martín Correa and Gabriel Guarda OSB, 1964): $180,000 will create a conservation plan for the needs of the monastic community and the ageing building.
Obafemi Awolowo University, Ife-Ife, Nigeria (architect: Arieh Sharon, 1962-76): A comprehensive conservation management plan will be created that can also set standards for the care of many other campus structures across the region inspired by its architectural forms.
White Tower, Ekaterinburg, Russia (architect: Moisei Reisher, 1929-31): Funding will be spent on preservation, and its reopening as a cultural centre.
Sardar Vallabhbhai Patel Stadium (Carlo Fumarola/CC BY-SA 3.0)
Sardar Vallabhbhai Patel Stadium, Ahmedabad, India (architect: Charles Correa; structural design: Mahendra Raj, 1966): Already in receipt of a Getty grant for planning, the stadium will get $230,000 for conservation and local knowledge-sharing on the care of exposed concrete buildings, which is relevant to other twentieth-century buildings in Ahmedabad.
Oberstufen-Schulzentrum Wedding (secondary school), Berlin, Germany (architects: Pysall, Jensen, Stahrenberg & Partner, 1976): €120,000 will create a strategy for its conservation, new operations, and long-term management.
Tecton Buildings at Dudley Zoo and Castle, Dudley, West Midlands, United Kingdom (architects: Berthold Lubetkin and the Tecton Group, 1937): Money will go towards concrete testing, structural surveys, site investigations, and restoring the Tropical Bird House, Elephant House, Education Centre, and Queen Mary Café.
Buzludzha Monument, Hadzhi Dimitar Peak, Bulgaria (architect: Georgi Stoilov, 1981): $60,000 will be used to stabilise its interior mosaics.
First Presbyterian Church (John9474/CC BY-SA 4.0)
First Presbyterian Church, Stamford, Connecticut (architect: Wallace K. Harrison, 1958): $240,000 funding will be used to conserve, repair, and stabilise the Church's dalle de verre elements, which will be useful to create international standards for the preservation of the glass decorations.
Gandhi Bhawan, Chandigarh, India (architect: Pierre Jeanneret, 1962): A 2020 donation will follow on from a 2015 grant, which will be used to conserve two of the site's most definitive elements, the reflecting pool and the exterior concrete precast cladding panels.
Shikha Jain, Keeping It Modern advisor, said: "I have seen firsthand how Keeping It Modern has not only established exemplary processes for the conservation of modern heritage across the world but has transformed how civic leaders perceive this heritage.
"This phenomenal impact was evident in our projects at Chandigarh [India], where stakeholders now agree that 20th-century buildings can have cultural value and have become true custodians of modern heritage."
Top image: Kuwait Towers (Richard Bartz/CC BY-SA 3.0)