Demonstrations have erupted in Ethiopia after a well-known man who was project managing the country's Grand Renaissance Dam (Gerd) was found dead yesterday in Addis Ababa.
The body of Simegnew Bekele was discovered inside a Toyota Land Cruiser, parked near a busy square in the capital. Zeynu Jemal, head of the Federal Police Commission, told reporters: "We have confirmed that engineer Simegnew Bekele was shot dead." He had a bullet wound behind his right ear." A Colt pistol was found inside the car.
Bekele, 53, was well known in Ethiopia as the public face of the Grand Renaissance Dam. The announcement prompted a march to the state television station headquarters by crowds chanting "No to killings" and "Justice for Simegnew".
Crowds also demonstrated at the northern city of Gondar, the capital of Amhara Province, where Bekele was born. "Among our requests is the repatriation of his body," said one protester, who only gave his name as Geremew.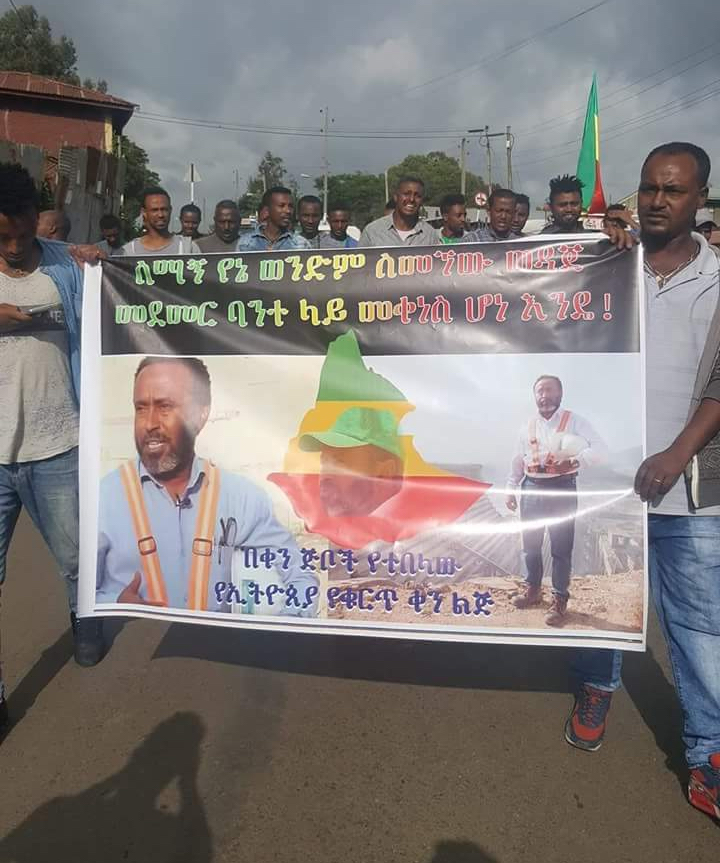 Demonstrators in Addis Ababa (via Twitter)
Tsedale Lemma, the editor of the Addis Standard newspaper, said on Twitter: "Professional integrity remained intact above and beyond the political bickering that engulfed Gerd since it was launched. He believed in it when many of us struggled. Most importantly, he was a father, a husband, a son and a brother. RIP the giant!"
Ethiopia's recently installed prime minister, Abiy Ahmed, tweeted that he was "saddened and utterly shocked" by the death.
The construction of the $4bn, 6GW dam, which was partly financed by ordinary Ethiopians, has become a symbol of Ethiopia's drive to join the developed world. It has also been intensely controversial, with Egypt in particular viewing the project as an existential threat.
Bekele was born in 1964 in the small town of Maksegnit in Amhara Province. A civil engineering graduate of Addis Ababa University, he served as deputy project manager for the Gilgel Gibe I and the project manager for the Gilgel Gibe II dams, and was project manager for the Gerd since the start of its construction in 2011.
Top image: A picture circulated on social media showing the Toyota Land Cruiser where the body was found
Further reading: