By Alan Gilham in Ghana
The collapse of the six-storey Melcom shopping centre in Accra last November killed 14 people and injured more than 60 others.
Amid the public outrage the spotlight of blame swept back and forth. The building's owner, the contractor, the designer and local authority officers all had their turns in the glare.
In such tragedies the temptation is to find the person responsible, when we know that a safe built environment requires a systemic approach.
I'm helping with a study for the African Development Bank, studying the construction industries of several sub-Saharan countries. Not surprisingly, we've found that a lack of policy coordination seriously hurts industry performance.
Without a good policy for a country's industry as a whole, attempts to improve performance will always be piece-meal and have limited impact.
The problem is, construction in its entirety never fits neatly into the usual jigsaw of government ministries.
Planning, design, procurement, inspections, building regs, professional certification, materials testing, safety, supervision -Â all the crucial ingredients of a high-quality industry are usually scattered among various ministries and the cracks for them to fall through are many and wide.
The Melcom shopping centre
If ministries are well coordinated it's not an issue, but in most governments, even in the developed world, this is rare.
Some countries in Africa are doing something about this.
South Africa is perhaps in the lead with its Construction Industry Development Board (CIDB), which has a regulatory role and also promotes best practice.
In Malawi and Uganda, 'apex' bodies have recently been created with powers to coordinate industry stakeholders and lead industry improvement.
Here in Ghana, there is no such body.
It's important because Ghana is booming, with GDP growing at a sprint – 14.4% in 2011, according to the World Bank.
Meanwhile, a rapidly expanding economy means a rapidly expanding built environment, and the only way to prevent heartache, devastation and dysfunction being woven into a country's new urban fabric is to get organised.
There have been many attempts over the years in Ghana to bring the professions together, but they haven't worked.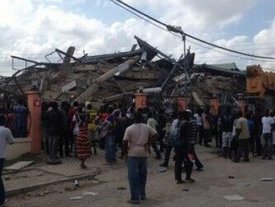 14 people died (Credit: AfricaNews)
Now, though, Ghana's re-launched CIOB group is taking up the challenge under the leadership of its new chairman, Rockson Dogbegah.
Rockson founded a successful civil engineering and general building firm here, called Berock Ventures. As I write this, he's with a joint industry-government delegation touring Malaysia and Singapore to collect industry best practice ideas.
He'll be making the case to government for a construction industry regulator. He already has support from the Ministry of Trade and Industry, and the World Bank is offering financial support to develop a draft bill.
This is exciting, but there is a long way to go. Even with full government support it'll likely take another two years before any such body exists in law.
After the Melcom collapse an inquiry was launched, but things have gone quiet since. They may be looking for the wrong thing, because the real culprit in situations like this anywhere in the world is the system, and changing that takes leadership – from the top, all the way down.
Alan Gilham advises institutional and public sector bodies on construction issues in Africa.