28 March 2014
Qatar this week handed out two of its largest ever roads contracts. Both were for phases of the New Orbital Highway and Truck Route intended to link the north and south of the country while bypassing the capital, Doha.
The awards were for contracts two and three of the overall work.
Contract two, the 41km Salwa Road to North Relief Road project, was awarded to a joint venture between Qatari Dior Vinci (QDVC) and Bin Omran Joint Venture. This one is valued at $1.2bn.
Contract three was won by a joint venture between Habtoor Leighton Group and Al Jaber Engineering. This 57km section of the highway will link Salwa Road, which runs through the centre of Doha, with the Mesaieed industrial area in the south of the country.
Both routes will have 12-lanes, including two separate ones for the use of slower moving heavy goods vehicles.
Altogether, the New Orbital Highway will cover 200km and include 22 major intersections, bridges and tunnels. Additional infrastructure improvements implemented as part of the project will including a storm drains, sewerage, and electrical and telecom networks.
The Cyprus-based civil engineer Joannou & Paraskevaides won contract one, which involved the construction of 45km of road south-west of Doha.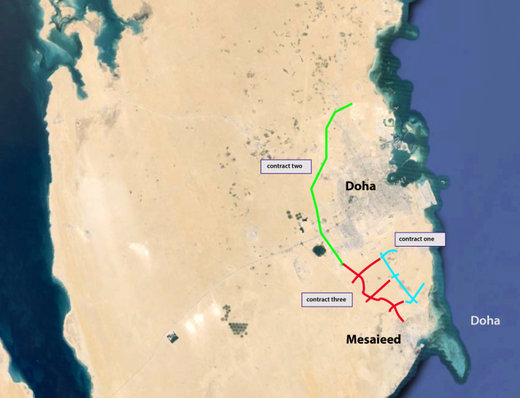 Contracts one, two and three of the New Orbital Highway and Truck Route (GCR)
The win is a particularly significant one for Habtoor Leighton, the joint venture that is 45% owned by Australian contractor Leighton Holdings.
The project is five times larger than its other work in Qatar, which includes the building of five hotel towers in Doha as well as reservoirs and pumping stations.
Leighton has struggled with bad debts in the Middle East, and a report by the Australian Broadcasting Corporation earlier this month suggested that the firm could be facing a $2bn write-down as a result of them.
José Antonio, the chief executive of Habtoor Leighton, said Qatar was a critical market for the firm.
"The Orbital Highway is a major opportunity for HLG and our joint venture partner Al Jaber Engineering, and we are pleased to have been selected by Ashghal to work in partnership with them to deliver such an important element of national infrastructure for Qatar."
Design and construction will begin in the second quarter of this year and is set to finish up in the second quarter of 2017.
A report by Business Monitor International said Qatar would spend $20bn on roads as part of its 2030 Vision development plan.
Other programmes in the pipeline include $40bn on railways, $15.5bn on Hamad International Airport (due to open later this year), $7.4bn ports and $4bn on football stadia.