Qatar has unveiled Foster + Partners' design for the Lusail Stadium, the venue to the north of Doha that will host the opening and closing matches of 2022 FIFA World Cup.
According to the Supreme Committee for Delivery & Legacy (SC), the 80,000-capacity ground will be the largest in the tournament.
In 2015, the SC selected Foster + Partners, Populous and Arup to design the project, and in 2016 it announced that a joint venture between Qatari firm HBK Contracting and China Railway Construction Corporation would build it.
The Lusail Stadium's design is inspired by Arabic craft traditions such as "fanar" lanterns and intricately detailed bowls.
The SC said after the tournament was over, the stadium would become a community space, containing schools, shops, cafes, sports facilities and clinics. To make way for the revamp the ground's modular seating will be donated to sporting projects across the globe.
Based 15km outside Qatar's capital Doha, the venue will be an attraction of the new Lusail City, 90% of which is completed.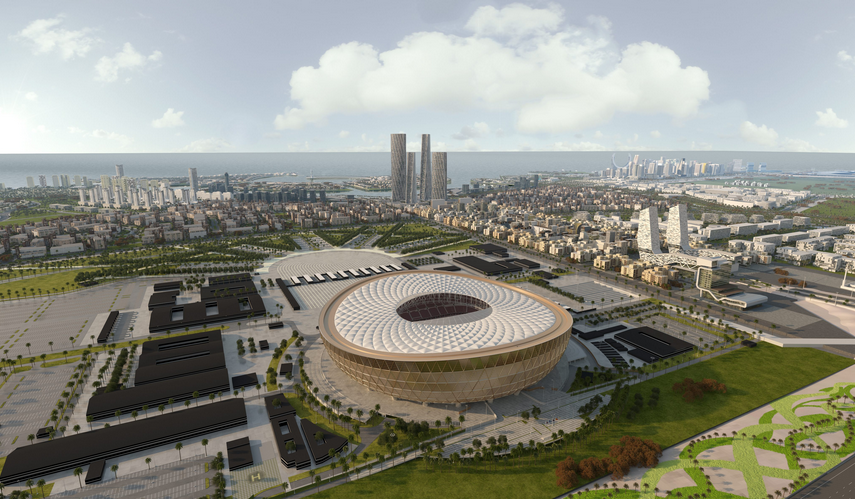 Fatma Samoura, FIFA general secretary, said: "Qatar's stadiums are among the most eye-catching ever seen and the venue proposed for the final is absolutely gorgeous.
"I particularly enjoy the fact that Middle Eastern culture is reflected in Lusail's and several other designs, and look forward to seeing football fans from all over the world discover the culture and history of the region."Â 
Construction of the Lusail Stadium is due to be completed in 2020.
Images courtesy of Supreme Committee for Delivery & Legacy