The head of an influential charity in Italy has said that it is not feasible to rebuild all of the Medieval villages reduced to rubble by yesterday's earthquake, as it would be too costly and the region has been depopulating anyway.
Instead, the strategic plan for the mountainous area northeast of Rome should be "rethought completely", said Paolo Beccegato, vice director of the Catholic charity Caritas, which has workers assisting in the devastated zone.
The strategic planning of this area has to be rethought completely because it is already changing– Paolo Beccegato, Caritas
He made his comments on BBC Radio 4's World At One programme today as the toll of people killed by the 6.2-magnitude quake, which struck at 3.36am yesterday, hit 241 in towns and villages in the remote area straddling the regions of Umbria, Marche and Lazio.
Many were killed in the historic town of Amatrice (pictured above), whose mayor, Sergio Pirozzi, said as news of the disaster was breaking: "Half the town is gone."
Other centres of population include Accumoli, Arquata del Tronto and Pescara del Tronto, while many smaller villages reachable only by narrow, winding roads were cut off.
Thousands of rescue workers have been toiling to reach survivors trapped by rubble, but hope is subsiding as the hours wear on.
In terms of the number of fatalities, the disaster is approaching the earthquake in L'Aquila, just south of Amatrice, which killed 300 in 2009.
Beccegato acknowledged the pain of the residents, saying some of his Caritas colleagues had lost relatives. But he said the damage was "greater than we expected", and that it was not feasible to contemplate wholesale rebuilding.
"People, especially the youth [are] leaving. They can't find proper jobs, or they prefer to abandon the agricultural work," he said. "So most of these villages are populated by … people who lived there before. They are still maybe working a bit but the planing and the organisation and all the strategic planning of this area has to be rethought completely because it is already changing."
"We think that this earthquake in a certain way obliges us or the communities to rethink themselves, to plan a future which would be completely different than the past," he said, adding: "Because the economic condition of the people doesn't allow the people to rebuild their houses because they are very old, they don't have the economic conditions to do so."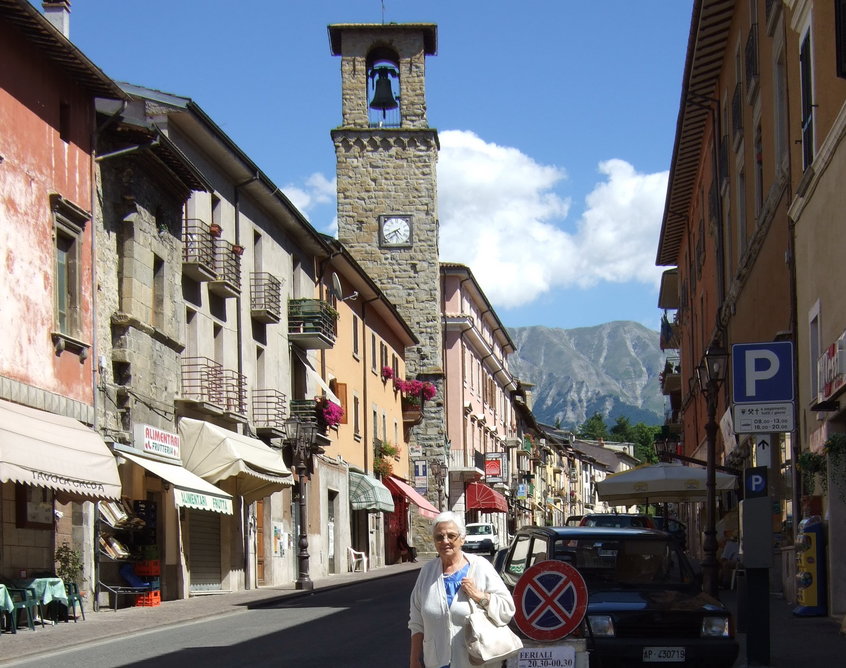 Amatrice in happier times before the quake (Mario1952/Wikimedia Commons)
The disaster presents a challenge to Italian Prime Minister, Matteo Renzi. Yesterday in a televised address he promised, "We pledge that will not leave anyone behind, no family, no village, no hamlet."
He added: "In difficult moments, Italy knows what to do."
But it isn't clear how much reconstruction Italy can afford. The country is weighed down by debt and by high unemployment, while its economy, having shrunk by around 10% since 2007, is stagnant.
Plus, its record of post-quake rebuilding has been tarnished in L'Aquila, where, seven years after the quake, reconstruction of the city centre remains at an early stage. Local anger over the situation sparked a hostile reception for Renzi there last year.
Paolo Beccegato insisted that the response to this latest earthquake must "be considered completely differently" from the L'Aquila experience, and carried out "according to a long plan agreed with the government and the other agencies".
Asked by the World At One presenter if he was really contemplating "saying goodbye to these beautiful places for good", Beccegato said: "I think so. I think that certain little villages most likely will not be populated any more."
Top image: Amatrice, one of the bigger towns devastated by the earthquake on 24 August, 2016 in central Italy (Roberto Silvino/NurPhoto via Getty Images)