A Canadian contractor is about to begin work on a 13-storey apartment block made entirely from wood – with an aluminium facade. When complete it will be the tallest wooden building in North America.
Nordic Structures' 41m-high Origine will be constructed in Quebec City's Pointe-aux-Lièvres district. Planning for the building has taken more than 18 months, and has involved collaboration with federal and provincial governments, as well as research institutes.
To prove the proposed building's fire resistance, Nordic's team built a mockup of a wall and floor with the weight of 11 storeys applied on top to mimic the forces on the lower floors.
The test showed that the Origine's walls and floors could resist fire for 31 hours at 1,200°C, according to newspaper The Globe and Mail.
The material is cross-laminated timber, a material that is important for the regional economy. The structural material will be up to seven rows of lumber glued perpendicular to each other. The material is made of 90% black spruce.
The hope is that a successful scheme will help to open the market for high-rise schemes made from Quebecois wood throughout Canada and the US.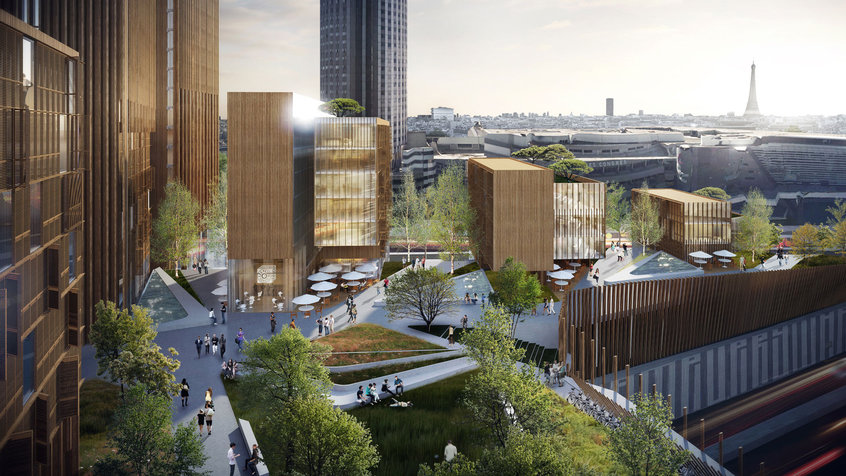 MGA's "Baobab": a design for a 35-storey wooden tower in Paris
Régis Labeaume, the mayor of Quebec, said the project would send a "strong message" that wood could be used as a structural material on a grander scale than is presently the case, according to the architect.
The building, designed by local practice Yvan Blouin Architecte will consist of a solid wood structure on a concrete podium; it will contain 94 one-, two- and three-bedroom condominium apartments.
Work is due to complete at the end of next year, at which point it ought to be 11m taller than the Wood Innovation and Design Centre in Prince George, British Colombia, now the tallest wooden building in North America.
Architect Michael Green, of Vancouver-based MGA and designer of that building, has teamed up with French DVVD and real estate group REI France to propose what they claim would be the tallest wooden building in the world for the Réinventer Paris design competition. The "plyscraper" would be 35 storeys tall.
Other wooden towers on the horizon are the 84m HoHo building, earmarked for Vienna next year, and a 34-storey wooden apartment block in Stockholm designed by CF Møller, which may be completed in by 2023.