The high-speed rail world has responded with keen interest to a request for information by Malaysia and Singapore over the long-proposed high-speed link between the two countries.
A whopping 98 submissions came in from financiers, engineers, equipment makers and other players in the rail industry in response to a formal request for information concerning the link between Malaysia's capital, Kuala Lumpur, and the island city-state of Singapore.
More than half, 56, came from Europe, with firms from Malaysia and east Asia also well represented.
Malaysia's and Singapore's public transport authorities, SPAD and LTA, who had issued the request to gauge market interest, said they were "grateful for the strong feedback that the market has provided us on our project."
"We will study the responses thoroughly and consider how the project's commercial model and procurement approach can be further improved," they said in a joint statement today.
"We are heartened by the support we have received, and look forward to our continued partnership with the private sector to deliver this exciting and iconic project."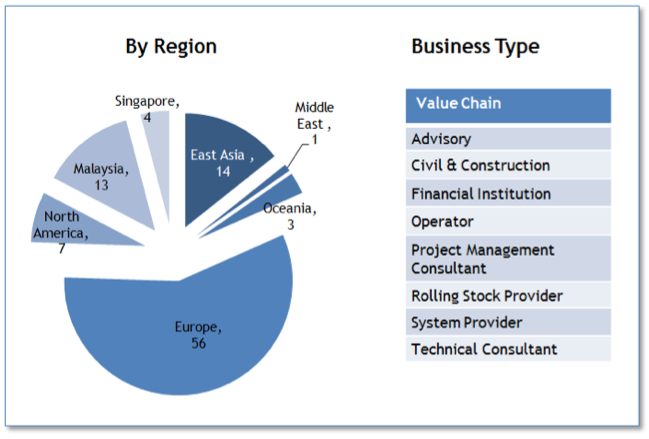 Breakdown of the 98 responses (SPAD; LTA)
The governments of Malaysia and Singapore expect to finalise the commercial model and procurement approach by next year, they added.
The link was first proposed in the late 1990s but has been shelved a number of times because of the estimated high costs.
However, in February 2013 the prime ministers of the two countries officially agreed to move ahead with the railway to supersede slow, existing links.
Top image: A 2011 illustration of the proposed route (Johorean Boy/Wikimedia Commons)