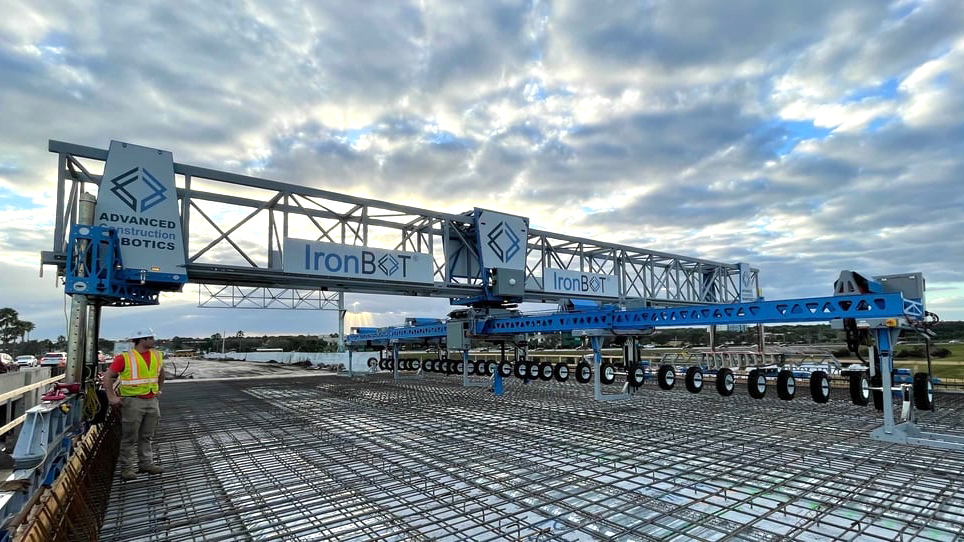 Advanced Construction Robotics (ACR) has followed its rebar-tying robot, Tybot, with the launch of Ironbot, a robot that can lift, carry and place nearly 2,300kg bundles of rebar in a transverse or longitudinal orientation.
Combining Ironbot with Tybot can typically reduce rebar installation times by 50%, according to ACR.
Ironbot successfully completed its inaugural project in February on the Port St Lucie West Boulevard Bridge in Port St Lucie, Florida.
Shelby Erectors, a contractor on the bridge project, originally estimated rebar installation would take 14 days. By augmenting its crew with the two robots, Shelby completed the task in seven days.
During the pilot, Ironbot placed 66,700kg of rebar, while Tybot completed 58,068 ties in 6.5 production shifts.
Jack Nix, COO of Shelby Erectors, said: "We were impressed that we could slash our rebar installation schedule in half. We are actively looking for new projects to incorporate the BOT Bundle in our operations."