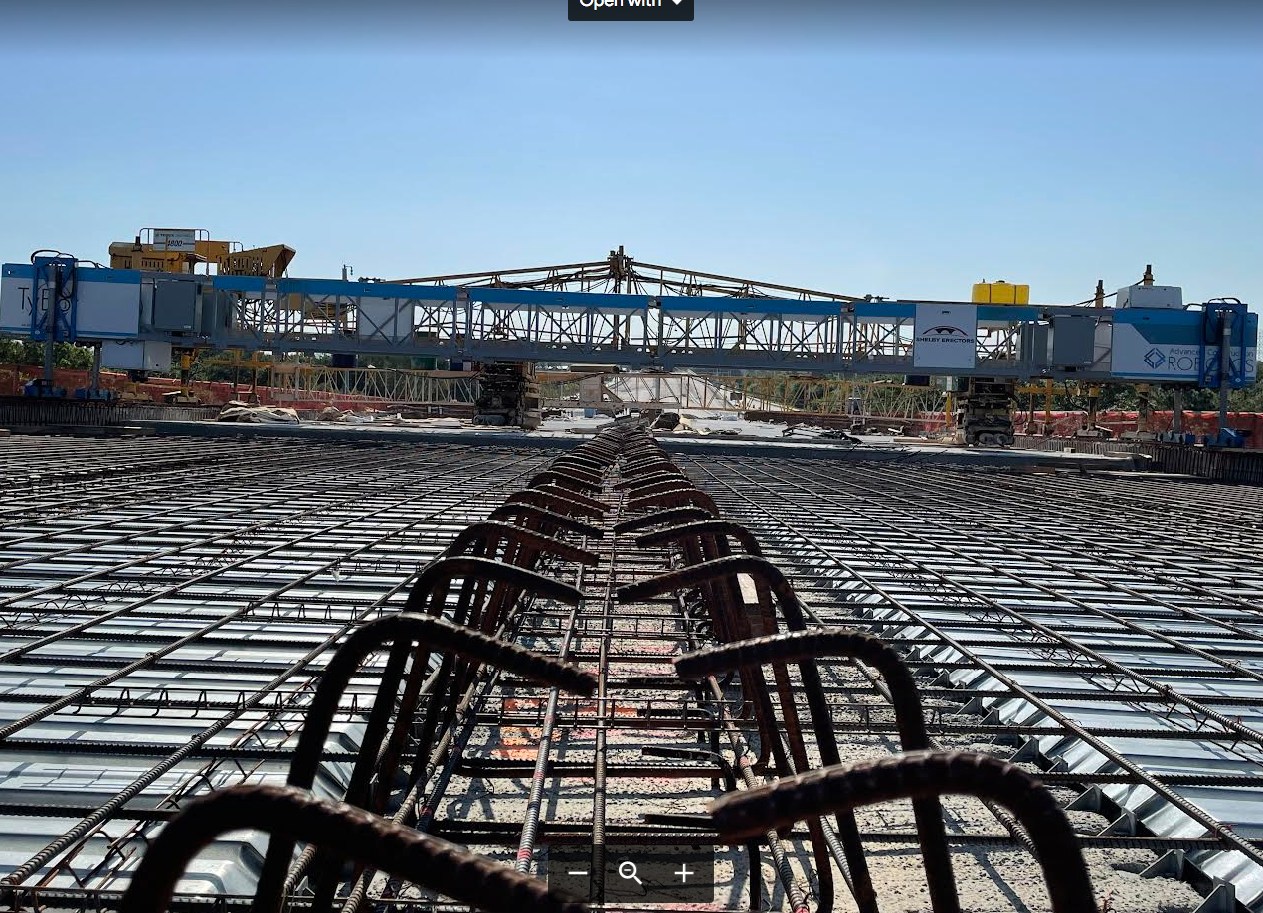 Pittsburgh-based Advanced Construction Robotics (ACR), the company behind the rebar-tying robot, TyBot, said this month that its autonomous machine had achieved this year's record number of ties on a single shift on a bridge project in Clearwater, Florida.
Over the course of a workday, TyBot completed 11,044 ties, averaging over 1,100 ties an hour, on Bridge 8a of the Florida Department of Transportation's Gateway Expressway mega project, which is adding two four-lane elevated tolled roadways in the city west of Tampa.
The robot, deployed in this instance by Florida bridge rebar contractor Shelby Erectors, automatically locates and effects rebar ties without a break and in any weather, day or night, thus relieving people of repetitive, backbreaking work. Its robotic arm, rigged to a gantry, uses machine vision to navigate bridge decks.
"A shift like this makes a real difference," said Shelby Erectors' chief operations officer Jack Nix in an ACR press note sent to GCR
"When TyBOT is moving this quickly our crews are able to focus our full efforts on more complicated work. TyBot handling over 11,000 ties in a shift provides much needed relief to us as our crews are pressured by labour shortages and schedules."
The shift was TyBot's best since 15 March 2021, when it logged 13,402 ties in one day. Still to beat is a previous record of 16,000 ties in a single shift. ACR noted that shifts vary in duration.
TyBot is the brainchild of Stephen Muck, chair and chief executive of heavy civils contractor, Brayman Construction Corporation, who recruited robotics experts from the National Robotics Engineering Center at Carnegie Mellon University to design a rebar-tying robot to counter chronic labour shortages.
In 2017 Muck co-founded ACR to commercialise the concept with Jeremy Searock, formerly of the National Robotics Engineering Center.
In January 2018, ACR raised $4m from investors, including other heavy civils contractors, equipment dealers, and a labour union. The plan was first to lease machines to contractors and later to sell them.
"Shifts like this don't happen overnight," said Jeremy Searock, ACR co-founder and chief technology officer. "Like a rodbuster honing their skills over time, this achievement is the result of years of real work on real jobsites. Our team of world class innovators is developing the future of construction equipment, and creating modern jobsites where teams of humans and robots work together to get the job done."