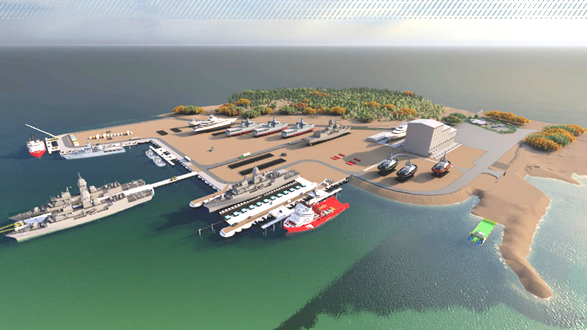 A joint venture between rejuvenated contractor Clough and Queensland engineer BMD has for the second time won a contract to build a shiplift in the northern Australian port of Darwin for the Northern Territory state government.
Ships weighing up to 5,500 tons will be able to enter the wet berth. Its floor then rises to lift the ship out of the water for maintenance.
When complete in 2025, it will mean commercial and naval vessels no longer have to sail for 10 days south to the nearest available dry dock.
First announced in 2019, the shiplift was billed as a major boost for the port of Darwin, the region's only deepwater port.
Clough and BMD first won the contract in July 2022. However, business difficulties saw Clough enter voluntary administration in December that year as takeover negotiations with Italy's Webuild failed.
The lift will be 26m wide, 103m long and 6m deep. The US$270m (A$422m) contract also involves building wharves and a hard stand area to carry out repair and maintenance.
The deal was signed earlier today in Darwin. Scott Power, BMD's chief executive, said at the ceremony that the scheme would have a "local first" approach and would make "a positive impact in the Territory through education, jobs, business opportunities and community initiatives".
The facility will serve the Department of Defence, and its newly procured fleet of patrol vessels. It will also work with commercial vessels from the fishing, oil, gas and marine industries.
Clough and BMD each own half of the joint-venture. The deal expands Webuild's share of the Australian market, its largest outside Italy.