26 March 2014
A spectacular falling out between Qatar and three of its fellow Gulf Co-operation Council members may threaten billions of dollars of investment in construction and civil engineering projects in the region, according to political and economic commentators.
On 5 March, Saudi Arabia, the United Arab Emirates and Bahrain announced the withdrawal of their ambassadors from Qatar.
In a press statement the Saudi government accused Qatar of failing to keep its agreement to "refrain from supporting any activities by militant organizations or individuals that pose threat to security and stability of the GCC countries, either through direct militant activities or hostile media".
This is a coded reference to Qatar's support of Egypt's Muslim Brotherhood and the Al Jazeera Media Network, based in Doha, which has given air time to prominent Brotherhood preacher Youssef al-Qaradawi, a critic of Saudi and UAE authorities.
After the shock decision to withdraw diplomatic representation, Saudi Arabia's foreign minister told local media that the rift would not be healed until Doha changed its policy.
Chilling effect
Regional commentators agree that the row will have a chilling effect on trade and investment ties between the three main economies in the area, and common projects such as the $15bn Gulf railway network.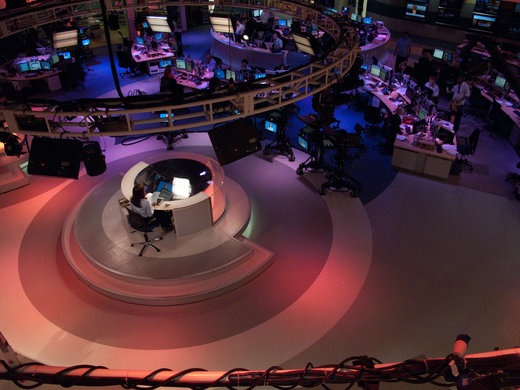 Saudi Arabia and the UAE have been upset by Qatari TV station Al Jazeera's decision to give air time to the Muslim Brotherhood (Paul Keller, Wikimedia Commons)
"This is by far the biggest crisis we've encountered as a council," a Kuwaiti official who did not want to be named told Al Jazeera.
One immediate casualty may be the 40km causeway between Bahrain and Qatar, which has been discussed for years, and which is now off the agenda until political tensions ease.
John Sfakianakis, chief investment strategist at MASIC, a Riyadh-based investment firm, told the Reuters news agency that the dispute would have an impact in the coming months and years if tensions did not ease.
"Less investments, less capital transfers, fewer joint ventures, more negativity about Qatar may be the result if the country becomes isolated from the region," he said.
The Gulf Cooperation Council was formed in the early eighties as a reaction to the Iranian revolution. It had the long-term goal of developing a customs union, and ultimately unifying the members in a federal state.
Theodore Karasik, the director of research at the Dubai-based Institute for Near East and Gulf Analysis, told Al Jazeera "The GCC as we know it may be headed for irreversible change, and the bulk of the ideas of a GCC union may be thrown on the ash heap of history."