GCR will be taking a break over the holiday period, and wishes its growing readership a very Happy Christmas and New Year – a happier new year than 2018, anyway, overshadowed as it was by the epoch-making collapse of Carillion.
In a spirit of reflection we offer this overview, with the most-read articles in each month.
What about Carillion's Middle East projects?
In the months leading up to the plug being yanked out on 15 January, Carillion had won several large projects in Dubai and Oman, even as it haemorrhaged cash from projects in Qatar and Saudi Arabia. After its liquidation, staff in the Middle East were left to fend for themselves.
Carillion bosses baffle MPs with details of Qatar disaster
Former bosses, including sacked chief executive Richard Howson (pictured), drew angry incredulity from MPs as they tried to explain how the company could have lost so much money on its disastrous project in Qatar. Howson told the inquiry he "felt like a bailiff" after going to Doha more than 60 times over six years to plead for payment.
The inquiry chairs, perhaps unfamiliar with contracting risks, were having none of it. "This morning a series of delusional characters maintained that everything was hunky dory until it all went suddenly and unforeseeably wrong," they said.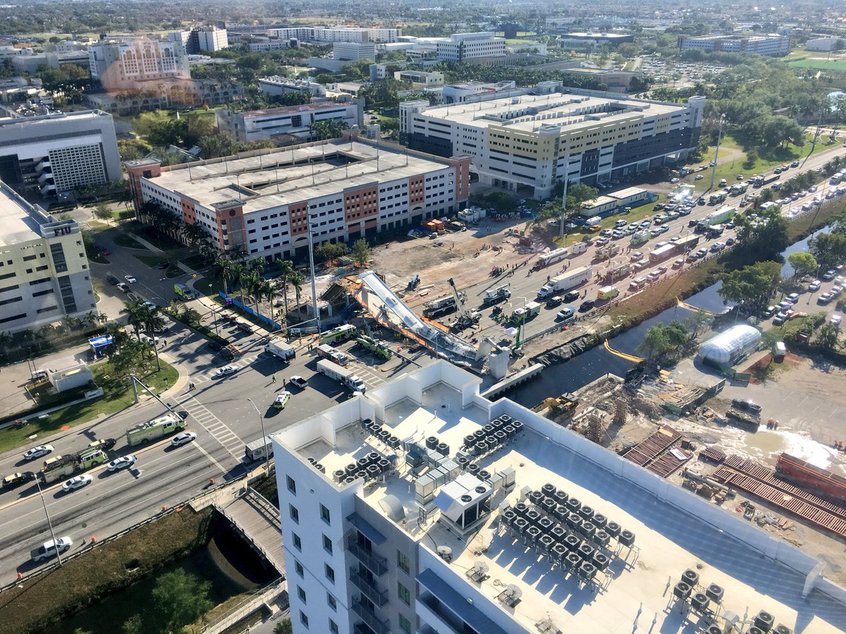 Bridge hailed as engineering marvel collapses five days after erection
Six people died after a pedestrian bridge installed only five days earlier collapsed onto cars at Florida International University in Miami, 15 March. Hailed as a triumph of modern methods of construction, the 174-foot, 950-ton section of the bridge was built on the roadside to minimise traffic disruption before being lifted and rotated into position over a busy traffic artery.
The investigation into the cause is still ongoing, but investigators concluded there were design errors in November.
Expensive London flats slashed in value by Grenfell-style cladding
The fallout from the Grenfell catastrophe continued as a woman living in a new London apartment complex with cladding similar to that used on Grenfell Tower was told the market value of her £475,000 home had plunged to just £50,000. Cecile Langevin, 32, hired a surveyor for the valuation amidst a dispute between the developer and the body that approved and insured the complex, the National House Building Council, over who was liable for replacing the cladding.
Part of this huge issue appeared to be resolved when, in November, the UK government gave councils in England the power to strip high-rise residential buildings of their aluminium-composite material (ACM) cladding, and to charge the cost to their private sector owners. 
American cities now world's most expensive places to build thanks to low productivity
Low productivity pushing up the cost of labour was blamed for US cities being the most expensive places to build this year, according to Dutch consulting engineer Arcadis. It was a a striking change from last year, when only one North American city made the top 10. Singapore, meanwhile, led the way on offsite manufacturing, keeping costs comparatively low.
Foster + Partners considers leaving UK over Brexit
Even before the hooded spectre of Brexit appeared on its doorstep, the UK's construction industry was facing a chronic shortage of skills across many of its trades and professions. And nowhere more so than in the London offices of architects with a global client base, as Foster + Partners made clear in June when it revealed that fewer than one in four of its staff were UK nationals.
The story also kicked off a colourful exchange of views in the comments section, ranging from "Good riddance to them – we don't care no matter how much they think we should" to "Get a grip on yourself, you halfwit. Shall we get rid of everyone with something to offer, so that you can dream of the New Empire?"
Giant hands hold up golden bridge in Vietnam
The most popular article of July was based on this picture of a 150m-long bridge nestled in the hills of Da Nang, held up by a pair of giant blue hands.
Tourism to Vietnam has been growing at the astonishing annual rate of 30%, and the government is investing in things that both help visitors get around, and give them something to inspect. "Golden Bridge" in the Ba Na Hills is part of a $2bn programme of works to help them do both in the Annamese Mountains.
South Korea closes $266m high-speed rail line as passengers prefer the bus
A surprise from Korea in August: the state rail company announced that a state-of-the-art high-speed service between Incheon International Airport and Seoul would cease operation a mere four years after a $266m construction project was completed.
The purpose was to give international visitors faster access to Pyeongchang, the city that hosted the 23rd Winter Olympics in February, but once the games were over, Korea Railroad found the line was unable to compete with highly efficient coach operators. As a result the 300km/h line became a "money drinking hippo", as the Koreans call their white elephants.
Ethiopia announces four more industrial parks as debt fears grow
The year 2018 was a tumultuous one for Ethiopia as its brand new railway between Addis Ababa and Djibouti began to connect this highly populated and landlocked country with the outside world, and the installation of a reformist government cleared the way to ending the Eritrean war.
The country is basing its industrial policy on the development of large-scale manufacturing centres, and this policy took a step forward in September with the announcement that work on four more parks would begin before the end of the year. Ultimately, the aim is to build 30 of them, increasing manufacturing output from about 5% to 20% of GDP – if the returns on investment can keep pace with the rise in the country's national debt.
Croatia's $155m Drava bridge is 99.7% complete – and has been for past two years
Our top story in October was a quirky one: the contractors building the $155m Osijek cable-stayed bridge, the longest in Croatia, were refusing to complete the last $500,000 of work until they were paid the extra $30m that they said they were owed for variations.
The result was a two-year-long standoff in which 2,485m-long structure was almost, but not quite, ready for use.
Aecom to cease operations in 30 countries to improve profitability
One of the world's fastest growing construction groups appeared to reach its high-water mark in November, when Californian engineer Aecom announced that it was consolidating to improve profitability. Michael Burke, the company's high-profile chairman and chief executive, described the decision to pull out of 30 national markets as "strategic actions from a position of strength that we expect will substantially improve our profitability and position us to fully capitalise on our record $54bn backlog".
Ethiopia's huge Nile dam delayed to 2022
Some bad news from Ethiopia Grand Renaissance Dam project, arguably the most remarkable, ambitious and controversial civil engineering project presently under way anywhere. Possible defects in electro-mechanical work carried out by a state-owned company may add four more years to the construction schedule.
A senior minister described as a "grave mistake" the appointment of the military-run conglomerate Metal and Engineering Corporation to a $853m contract to install turbines. It followed the death of Simegnew Bekele, the 53-year-old engineer who had become the public face of the project. Police concluded that Mr Simegnew shot himself in his car in a square in Addis Ababa in September.