Eleven years after work began, the end may be in sight for one of the most disastrous road projects in recent history after Romania's National Company for Highways signed a contract worth $180m to complete a 60km stretch of the Transylvanian Highway between Suplacu de Barcau in north-western Romania and the town of Bors on the Hungarian border.
The contractors that will undertake the work are Spanish group Corsan-Corviam Construccion and Romanian companies Consinit and Road Consulting & Design. They have two years to carry it out.
The Transylvanian Highway forms the northern two-thirds of the A3 motorway, a 584km route that will eventually connect Bucharest with Hungary. 
Work on the highway has been split into three sections, one of which runs between Suplacu de Barcau and Bors. Initially, all three were awarded to US engineer Bechtel and Turkish firm Enka in 2004, at which time the price was put at $3.2bn. This decision was controversial as no rival bids were taken, a decision the government justified on national security grounds.
By 2007, the cost had risen to $5.4bn, and in 2011 the contract was renegotiated, with Bechtel agreeing to reduce the cost per kilometre by half. It was also agreed that it would build only two segments, including the Suplacu de Barcau to Bors route. 
Finally, the contract with Bechtel was terminated, in May last year, with only 52km of the Transylvanian Highway complete. The Romanian government paid Bechtel about $1.5bn, mostly in penalties.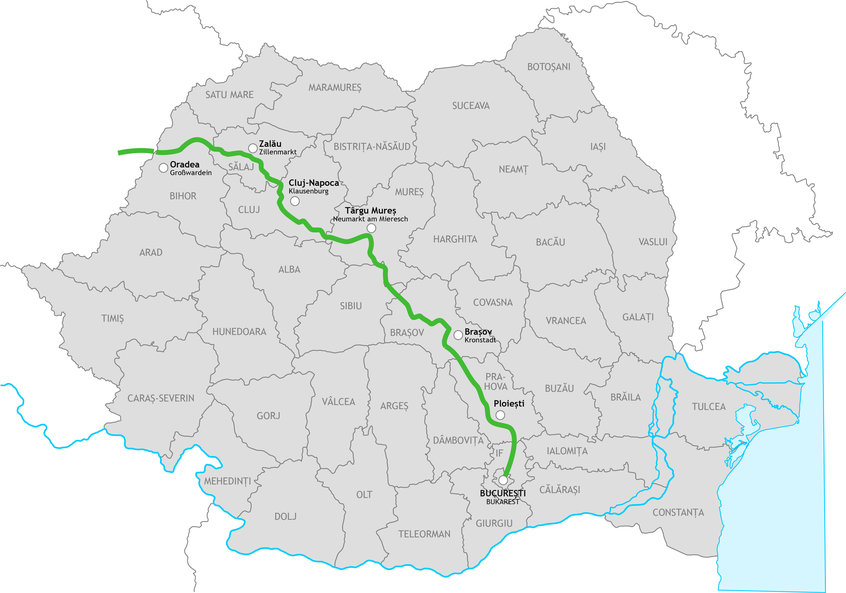 A map of the A3. The Transylvanian Highway runs between Brasov and the Hungarian border
At the time, Dan Sova, the head of the National Company for Highways told Romanian website Revista 22: "I had a meeting Bechtel and the American chargé d'affairs and I explained that the Romanian state had no money in the budget to even finish the Suplacu to Bors section, which would require an additional €250m ($340m) for 62 km to be done, in addition to the €250m we have already paid. I said this: let us close this contract, because obviously it does not work and it's extremely expensive."
At present, only a few sections of the A3 are in use: a 55-km stretch between Bucharest and Ploiesti in the south and a 52-km section between Campia Turzii and Gilau, which is part of the southern section of the Transylvanian Highway. 
Romania is no stranger to disastrous road projects.
The 90km Transfagarasan Highway over the southern Carpathians (pictured) was built by the Ceausescu government in the seventies. It is estimated that the 10-year project used 6 million tonnes of dynamite and cost the lives of at least 40 of the soldiers who built it.