The Dutch port city of Rotterdam is considering a proposal to build a "Windwheel", a 174m-tall wind structure made up of two giant rings containing 28,000 square metres of residential space.

The rings, one of which is coiled inside the other, would be made from steel and glass. If it is built, the outer ring will contain 40 rotating cabins; the inner will house a restaurant, a "sky lobby", a 160-room hotel, 72 apartments and shops.
Some of the power for the structure will come from a wind turbine that uses a framework of steel tubes to generate electricity with no moving mechanical parts. This "electrostatic wind energy converter" technology was developed two years ago by a consortium including the TU Delft and Wageningen University. It uses electrically charged water droplets to create a current.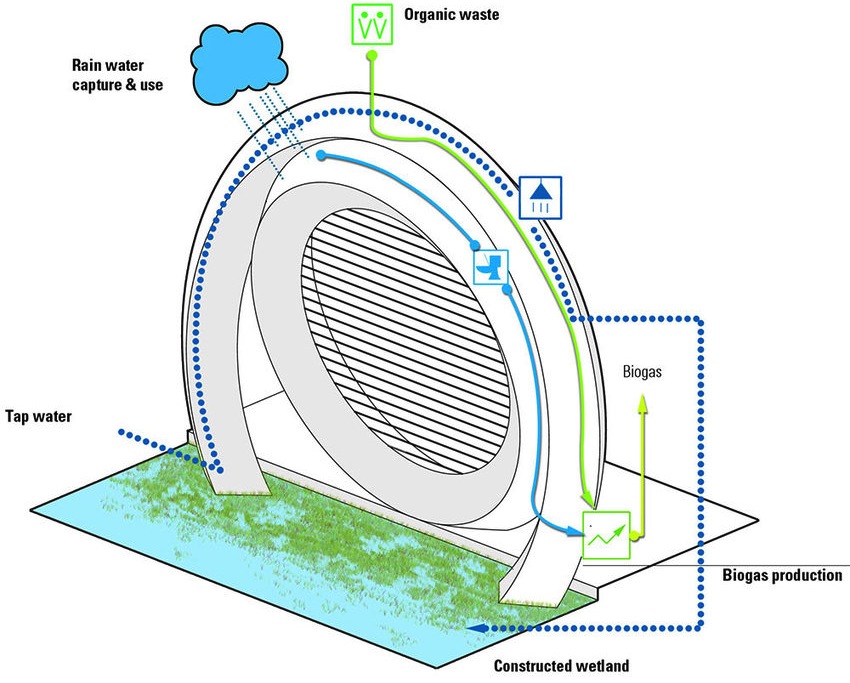 How water will play a part in the structure
The system has not been shown to work in a building as large as this, which may prove to be an obstacle to funding. At the moment, the Windwheel is just a proposal, albeit one that its backers say has the potential to attract 1.5 million tourists a year, giving it a 10-year break-even period.  
The building design also features water recycling, solar panels and a plant that would turn waste into biofuel.
How sun and wind power will be utilised
For more information visit the Dutch Windwheel website
Images courtesy of Dutch Windwheel