German politicians have reacted angrily to reports that Russia is planning to build a scaled-down model of its Imperial-era parliament building, the Reichstag, so that youngsters in a military youth movement can practise "capturing" it.
The model Reichstag will be completed later this year in Patriot Park, a 55-square-kilometre "military Disneyland" that was opened by President Vladimir Putin two years ago in Kubinka, a town about 60km west of Moscow.
The youngsters in question will be part of the Yunarmia, an organisation set up in 2015 to teach military skills to Russian children and adolescents.
The Reichstag in June 1945, after its capture by the Soviet troops (Imperial War Museum)
The German government has expressed its "surprise" at the move, and Martin Schäfer, the foreign minister, wondered what the reaction would be if Germany were to build a similar project for "the education and improvement of German youth".
Other politicians described the move as a "provocation" and demanded that the German government express its dissatisfaction to Russia.
A number of Russian politicians and officials have dismissed the German objections, on the grounds that they should also celebrate the storming of the building.
Major General Igor Konashenkov, a Russian military spokesperson, commented: "The attacks of some German politicians not only cause astonishment, they also raise the question of what attitude they actually have to the 'builders' of the Third Reich."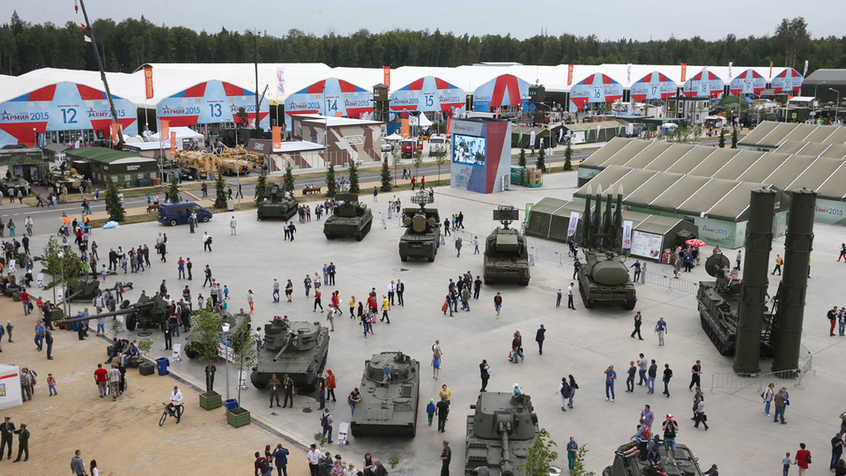 The opening of Patriot Park in 2015 (Russian government)
He added: "The construction of a miniature war-damaged Reichstag as it was in May 1945, would be an important element of the military-historic landscape of the Patriot Park, thus symbolising victory over Nazism, and playing an important role in the patriotic upbringing of young people and guests from other countries."
The Reichstag was seen by the Red Army as the symbolic centre of Hitler's Reich, although it was not used for political purposes after it was burned down the first time in February 1933. It was returned to service as the seat of the Bundestag in 1999.
Top image: The modern Bundestag (Matthew Field)