Authorities in Russia are making moves to build a large port on the Kola Peninsula in the far northwest of the country to take advantage of the receding Arctic ice cap.
The international shipping industry has been watching the opening of the "Arctic silk road" between the western Pacific and the northern Atlantic because it would halve the time it takes for containers to get from Shanghai to Rotterdam.
The plan was discussed by Andrey Chibis, the governor of the Murmansk oblast and Timur Ivanov, the deputy minister of defence during a meeting held on Monday, 24 August, reports The Barents Observer.
Afterward, Chibis took to social media to say he had reached an agreement with the Russian military to consider releasing land for the port.
He said Rusatom Cargo, a subsidiary of nuclear engineer Rosatom, proposed a container port able to handle up to 4.5 million units, about the size of the Port of Tokyo.
Rusatom has suggested that it will spend some $7bn on developing the Arctic for trade.
Chibis said the company is ready to begin work on the Kola project as soon as land is released.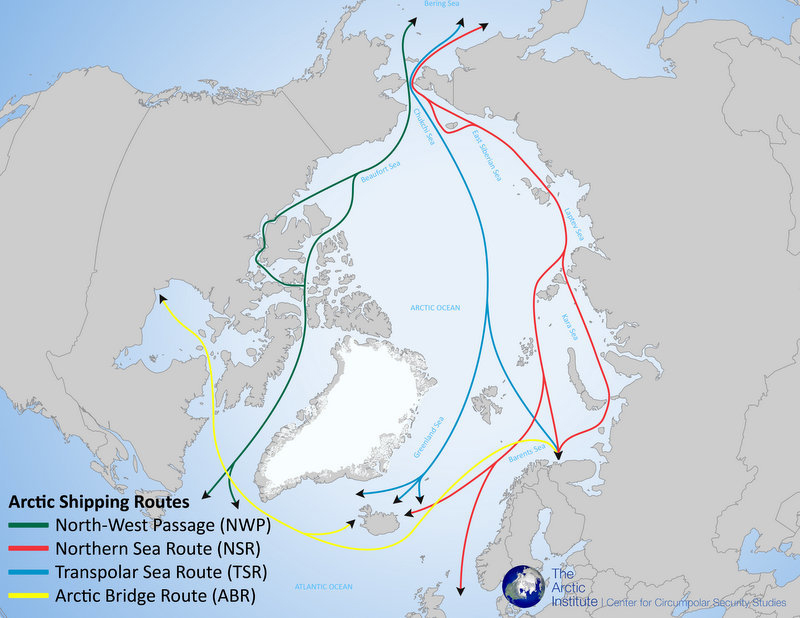 Polar trade routes (Yale University)
Rusatom Cargo is said to be planning to build two terminal hubs as part of its "Northern Sea Transport Corridor" project.
It would also construct up 30 ice-class container ships with strengthened hulls and engines powerful enough to push through ice floes. Â 
The Barents Observer notes that no site has been named for the port, but that a railway is under construction along the western shores of Kola Bay.
In 2018, the Chinese government published a white paper on China's plans to build supporting infrastructure along the route.
In January this year, Russian announced plans to build a fleet of 40 ice-class ships, renovate four airports, and build ports and rail links to the Arctic over the next 15 years.
In 2018, about 20 million tonnes of freight were transported using the polar route, largely Russian oil and gas. Â 
Top image: The northern passage halves the time taken to travel by sea between China and Europe (Whitemore Group)
Further reading: