A farmer in Russia has built a football stadium out of straw to mock the ballooning cost and corruption surrounding the construction of St Petersburg's Zenit Arena, recently opened for the 2018 World Cup.
Although the straw version in the Stavropol region lacks the extra-terrestrial elegance of the Kisho Kurokawa's design, and while its seating capacity is rather less than 68,000, it was a great deal cheaper: $673 compared with the original's $720m.
It was also built with tight financial controls. A sign at the ceremonial entrance of the ground reads: "Not a single rouble was stolen during the construction of this stadium."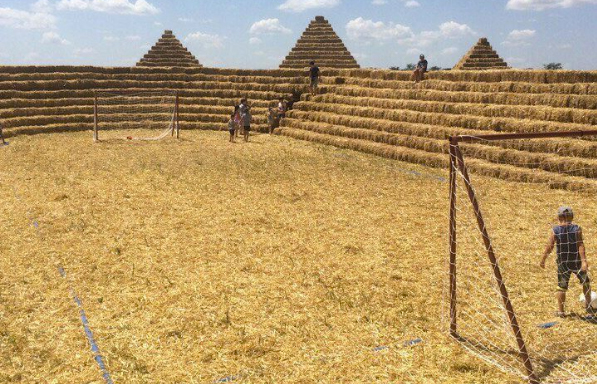 Roman Ponomarev's version (Instagram)
The Petersburg Zenit, built on the city's Krestovsky Island, had a difficult construction history. After the death of Kurokawa, the project was bedevilled by variations in design and documentation, which resulted in a chaotic six-year construction period accompanied by rampant cost inflation estimated at 540%.
It was also dogged by corruption: a former vice-governor of the region has been charged with taking a $351,000 kickback from the lighting contract award.
By contrast, the straw arena was designed and built in five days by Roman Ponomarev, a local farmer near the village of Krasnoe.
The project was mainly "done for laughs", but it also had a political point. Ponomarev told the website Sport.ru, "At first they said that the Petersburg stadium would cost 6 billion roubles, then 48 billion rubles; finally, it turned out that it hadn't even been completed yet. Our straw stadium is intended to mock this debacle," he said.
Ponomarev, a 34-year-old farmer who keeps ostriches and grows 25 kinds of unusually-shaped watermelon, is no stranger to straw construction. In the past he has created straw pyramids, windmills and giant teddy bears.
The real Zenit stadium responded to the dig by tweeting an offer to support Ponomarev's plans to stage a "World Cup for straw football" with referees, teams and trophies at the end of July.
Last year, Reuters reported that the total cost of the 2018 World Cup would be about $8.2bn, which may seem expensive, but does not look so bad compared with the $15bn cost of the Rio tournament or the $51bn price tag of the Sochi Winter Olympics.
Top image: The real Zenit stadium in St Petersburg (Andrew Shiva/Creative Commons)
Further Reading: