Billed as Europe's longest bridge, the 19-km road-and-rail crossing of the Kerch Strait connecting Russia to Crimea is now 75% complete, Russia's transport ministry has said, reports Russian state-owned media site, Russia Beyond the Headlines (RBTH).
Work on the $3.8bn bridge is going on at both ends, involving more than 20 ships and 5,000 people working around the clock and seven days a week to comply with a decree by Russia's President Vladimir Putin that the bridge be finished by the end of 2018.
The Kremlin sees the bridge as vital to connect Russia to Crimea, which Russia annexed from Ukraine in March 2014, because all land routes to Crimea go through Ukraine.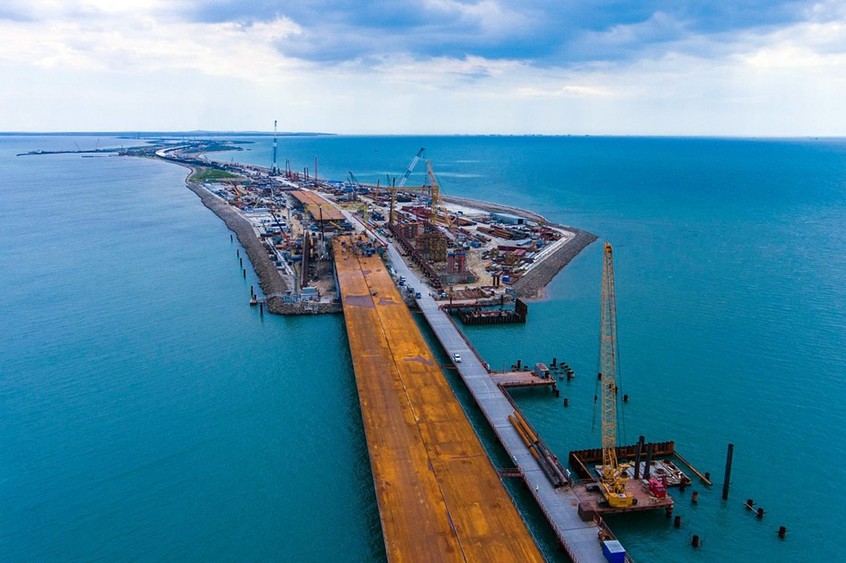 Work on the $3.8bn bridge is going on at both ends (From the bridge builder, www.most.life)
Last September the US government slapped sanctions on seven organisations involved in the ambitious bridge's construction, including designers, consultants and the main contractor, SGM-Most, a subsidiary of pipeline construction company Stroygazmontazh.
Owned by Arkady Rotenberg, a close associate of Vladimir Putin, Stroygazmontazh was picked to build the bridge in January 2015.
The sanctions have made no difference to progress on the ambitious bridge according to RBTH, which reports that work is "right on schedule".
Special piles are required because the bridge is in a seismic zone (From the bridge builder, www.most.life)
On 17 July the Russian Ministry of Transport said the bridge was 75% complete, RBTH reported, and held out the hope that it will open by Putin's deadline of December 2018.
Connecting Crimea's Kerch Peninsula to the Taman Peninsula of the Krasnodar Region in Russia, the bridge's highway will have four lanes able to accommodate up to 40,000 cars a day. The 10-minute-drive will speed up the flow of goods and people, who now must cross by ferry.
Two railway tracks will carry 47 trains per day, says RBTH, although rail component is expected later, in 2019. RBTH said the rail infrastructure is only 55% complete.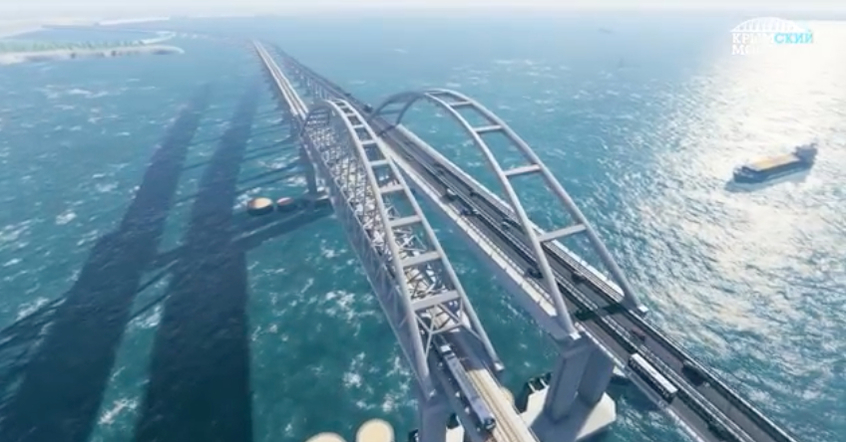 Artist's impression of the completed Crimea Bridge (From the bridge builder, www.most.life)
Over 30 companies are involved in building the bridge, which will have 35-metre-high archways to allow ships to pass.
RBTH says bridge will be the longest in Europe, bypassing the 17.2-km Vasco da Gama Bridge in Portugal.
Because it is being built in a seismically active zone, builders are using three types of piles – bored, tubular, and prismatic – drilling them to varying depths. Overall there will be 7,000 piles to support the Crimean Bridge's 595 pillars, says RBTH.
Top image: Work on the construction is going seven days a week (From the bridge builder, www.most.life)
Further Reading: