A top official is fired as delays, skyrocketing costs, and claims of worker abuse mar preparations for the 2014 Winter Games.
As night fell on 7 February, the milestone of one-year-to-go until the 2014 Winter Olympics in Sochi, organisers struggled under what in PR is called a "significant negative news overhang".
Russian president Vladimir Putin had fired the vice chairman of Russia's Olympic Committee after mocking him on television over delays to the ski jump.
Human Rights Watch had alleged that thousands of migrant workers building the venues were being mistreated.
And opposition politicians accused organisers of corruption as Sochi 2014 stayed its course to be the most expensive Olympics in the history of the Games.
Reminiscent of the scandal-ridden preparations for the 2010 Commonwealth Games in Delhi, the furore would have been hard to imagine in the run-up to Beijing 2008 or London 2012.
But at least organisers could console themselves with a staunch defence from Jaques Rogge, President of the International Olympics Committee (IOC).
7 February was a tough day for Akhmed Bilalov, vice president of Russia's Olympic Committee. The day before he'd been ridiculed on camera by President Putin during an inspection of the ski jump, originally due for completion in June 2011 but since delayed until July 2013 because of problems with the foundations – although test events have been held this winter.
Sochi's "Fisht" stadium under construction, October 2012 (Credit: Sochi2014.com)
According to reports, improperly identified soil conditions meant that piles needed to be driven later to support the structure. The cost of the facility has risen from a 2009 estimate of approximately US$40m to around $266m.
Bilalov had been head of the company, Krasnaya Polyana, that was responsible for the ski jump complex, although he is reported to have since divested his controlling share in the firm.
In what commentators say was a stage-managed event, Putin is shown on camera asking about Bilalov, as if he didn't know who the official was, and why the ski jump was delayed.
Putin is then reported to have said, sarcastically: "So it turns out that the vice president of the Olympic Committee is dragging out the construction," and, "Well done! You are doing a good job."
The following day Bilalov was removed not only from his post as vice chair of the Olympic Committee but also from another public position, as head of tourism development for the Northern Caucasus region.
Denying claims that Bilalov was a scapegoat for wider problems at Sochi, presidential spokesman Dmitry Peskov said: "Someone who bears responsibility for failure must bear it".
But while President Putin was playing tough for the cameras, other trouble was brewing.
On 6 February Human Rights Watch published a 67-page report claiming that tens of thousands of construction workers were being cheated and exploited, including over 16,000 migrant workers from outside Russia.
The group interviewed 66 workers, who told stories of employers withholding pay, requiring them to work 12-hour shifts with few days off, and confiscating passports and work permits, all in contravention of Russian law.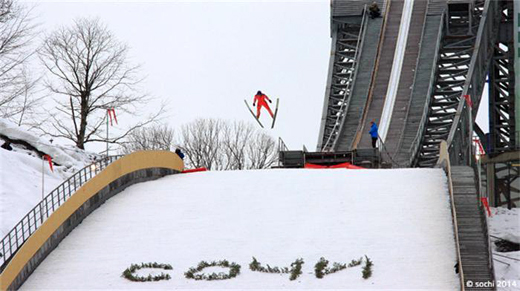 International test event at the delayed ski jump centre, Sochi, December 2012 (Credit: Sochi2014.com)
Main and subcontractors working on Olympics sites denied the allegations, but Human Rights Watch called on the International Olympic Committee (IOC) to take a stand, and for the Russian state body Olympstroy, responsible for delivering Olympics-related structures, to meet its obligation to protect workers' rights under national and international law.
"The Olympic Games are about excellence and inspiration," said the report's author, Jane Buchanan. "The world should not cheer Winter Games in Russia that are built on a foundation of exploitation and abuse."
Russia is in the middle of transforming Sochi, formerly a favoured retreat for Communist Party bosses, with sports venues, hotels and transport and telecoms infrastructure. In an era where "legacy" is paramount for the Olympics, organisers want to create a permanent winter sports destination.
But the price tag is huge. The reported cost of US$50bn surpasses the $42bn spent on the Beijing games in 2008 and eclipses the $14bn spent on London 2012, making Sochi the most expensive modern Olympics in history.
This has provoked claims of corruption. Opposition activist and former deputy prime minister of Russia, Boris Nemtsov, cited the cost – $8.6bn – of one new road between Adler and Krasnaya Polyana as the most outrageous example of possible embezzlement.
"This road could have been covered with a 5 millimetre layer of gold or a 5 millimetre layer of black caviar and the price would have been approximately equal," he is reported to have said.
IOC President Jacques Rogge, however, defended the high costs. Touring the venues before the one-year countdown began, he told the Associated Press: "You cannot just take the cost of the train and the tunnels and the road into the cost of the games because this tunnel and the train and the road are not meant for two weeks of competition, they are meant for generations to last."