By Porie Saikia-Eapen in New York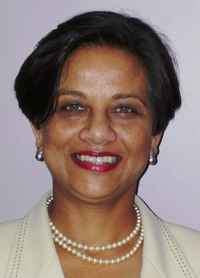 Superstorm Sandy was a full 24-hour event with a 14-feet-high storm surge and wind gusts up to 90mph. It crippled the New York, New Jersey and Connecticut region, flooding streets, tunnels, highways and plunging it into darkness for days.
Homes on the shores of the Atlantic Ocean in Rockaway, Breezy Point and Long Beach were reorganised into some unimaginable patterns, although a common theme was collapsed houses of cards.
From my high-rise apartment on the bay, counting my lucky stars for having power, cable and internet, I watched transformers blow, lighting up the night sky, one after another.
New York City had prepared, but Superstorm Sandy was worse than expected.
More than 1,700 public schools in the city were closed. Vulnerable facilities were evacuated. Warnings were broadcast non-stop by governors of the three states, and by mayors of the cities and towns. Rescue and medical teams were ready and standing by.
Inundation at Long Island Rail Yard (Credit: MTA)
The city's lifeblood, the MTA's subway system and the commuter rails, were officially shut down just before the storm arrived, which is why much of the damage was repaired quickly.
Consolidated Edison Inc., the utility giant that keeps New York lit, was better prepared for Sandy's wrath than LIPA (Long Island Power Authority), the second largest government-owned utility in the country.
Con Edison shut down many of its substations so that repairs after the storm were quick. It took less than a week to light up most of NYC again.
Having devastated the region, Sandy offered a chance to rebuild the economy, rethink preparedness and reassess our vulnerability.
The construction industry assembled many task forces and fora to identify short- and long-term strategies for infrastructure protection.
Richard Anderson, President of the New York Building Congress, is guiding a task force on NYC storm preparedness, focusing on infrastructure resilience and emergency response. Jorge Lopez, CEO of Con Ed Solutions, a subsidiary of Con Edison, is touring construction industry events, sharing the Sandy experience to brainstorm better strategic responses for the future.
Developers, designers and planners are rethinking development strategies in areas prone to natural disasters.
Some of the $1bn damage to telecoms is being repaired building by building in downtown Manhattan, with Verizon upgrading to a fully modernised, fibre-optic infrastructure.
Announcing the state budget last month, New York Governor Andrew Cuomo earmarked $3.6bn for the Sandy rebuild and for hardening the state's massive infrastructure.
With New York City's mayoral election due in November, protecting the city's infrastructure from Sandy's potential offspring has become a campaign issue.
So as the region rebuilds, one meticulous step at a time, a sharp new parameter has emerged – Mother Nature's fury.
Porie Saikia-Eapen is managing director of PRIA Global Inc., a CIOB Fellow and former chief architect of NYC Metropolitan Transportation Authority