Oil-rich Saudi Arabia will need to build 3.3 million new homes in the next 10 years in order to keep up with rapid population growth, government officials have said.
The announcement this week is the latest sign that the Kingdom is struggling to meet promises made after the Arab Spring uprisings in 2011 to build thousands of affordable homes.
Saudi Arabia's population has increased dramatically, from just under 6 million in 1970 to more than 31 million this year.
The Housing Ministry said the Kingdom will need more than 3 million new housing units by 2025 as the population is set to cross 37 million in 10 years.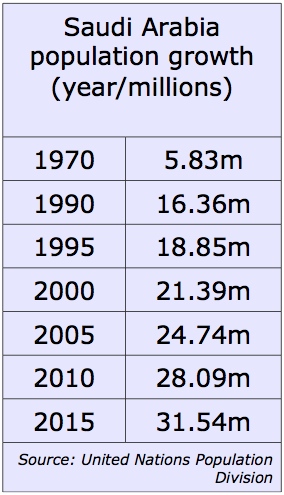 Hussein Al-Zahrani, director general of the ministry's office in Makkah province, said the Kingdom would require 330,000 new housing units every year, according to newspaper, Saudi Gazette.
Al-Zahrani said the country's Real Estate Development Fund needed more funds to provide more housing loans to citizens.
"This is the best solution for the housing problem," he told the newspaper.
He said the ministry's housing projects take time due to the process of obtaining land and building the houses, and criticised Saudi engineers for not doing more to resolve the housing problem.
He added that housing units constructed by local companies were of a poor quality.
Currently there are 233,651 ministry-sponsored housing units at the design stage, at contract-award stage, or under construction, Al-Zahrani said.
In the wake of the Arab Spring in 2011 Saudi Arabia announced that 500,000 new affordable homes would be built, but the ambitious programme has been delayed.
In 2013 the late King Abdullah ordered a a shake-up of the usual land-granting procedures and ordered ministries to work together to get the homes built.
Last year the Saudi government said it would undertake a comprehensive survey of rural areas to decide where to build new developments in an effort to stem the flow of migrants into cities, and the growth of slums.
Although Saudi Arabia is one of the world's richest countries, critics such as the scholar Rosie Bsheer have said that the government hides the level of poverty there, and that housing and job-creation programmes cannot keep up with the fast-growing population.
Photograph: A woman and boy beg for money in the Saudi city of Dammam, 2007. Critics say the Saudi government hides poverty in the Kingdom (AFP/Getty Images)