Saudi Arabia has more than $250bn worth of projects that have not yet seen their main construction contracts awarded, but a major new push on public-private partnerships (PPPs) is set to break the logjam, according to report from business intelligence service MEED.
This pipeline of unawarded projects accounts for about 39% of the GCC total, confirming the kingdom's status as the region's biggest projects market.      
    
Using data from MEED's project database, the report reveals that at nearly $82bn worth of projects, the kingdom's energy sector has the biggest pipeline of unawarded project contracts, accounting for about 33% of the national total.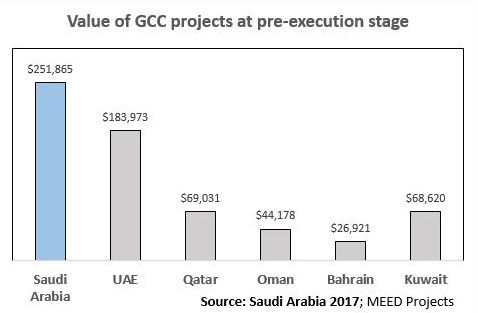 Together, power, construction and transport account for about $225bn of unplaced contracts.   
But after an uncertain 2016, as Riyadh formulated its response to lower oil prices, Saudi Arabia will this year begin to deliver on its promises, the report claims.
One of the first major steps taken has been to establish the National Centre for Privatisation to plan and oversee the procurement of public-private partnerships (PPPs) and other private sector initiatives. A host of state bodies are now being prepared for part privatisation.
Four PPPs have already been awarded this year to develop airport projects at Yanbu, Taif, Qassim and Hail. Saudi Arabia wants to privatise the operations of all airports by 2020. Advisers have also been enlisted to develop plans to engage private investors in other sectors such as healthcare.
The Ministry of Health is currently seeking advisers to help it draft a framework to build about 3,000 medical centres with the participation of the private sector.

Warnings
The report, Saudi Arabia 2017: Delivering Vision 2030, identifies emerging opportunities for investors and companies, and highlights challenges that companies need to be aware of in the kingdom.

Creating a successful partnership between private sector investors and the government will be critical in achieving the targets set out in the Vision and accompanying National Transformation Programme, says the report.
"This report confirms that, despite the challenges we have seen over the past two years as a result of the fall in oil prices, Saudi Arabia continues to be the biggest and most important market in the region," says MEED Editorial Director Richard Thompson.
2017 has also seen the major progress on Saudi Arabia's ambitious renewable energy programme. Under the National Transformation Programme, the kingdom is targeting 3.45GW of installed capacity by 2020.
In early February, the Ministry of Energy, Industry & Mineral Resources announced it was establishing the Renewable Energy Project Development Office (Repdo) to head the National Renewable Energy Programme (NREP). The same month, Repdo issued prequalification documents for the first 700MW of solar schemes.
Overall, Saudi Arabia has awarded more than $370bn-worth of contracts across all sectors since 2010, with about $252bn-worth of projects in the tender or design phase.
Images courtesy of MEED