2 May 2014
Flimsy garage doors are the fatal weak link in homes when a tornado rips through town and can exacerbate structural damage and loss of life, new research has concluded.
The tearing away of the garage lets high winds and pressure enter the main home, causing the collapse of its roof and walls, according to studies, the latest being one on the damage done by a powerful tornado in Oklahoma in 2013.
Better design and construction could safeguard buildings in much of a tornado's path but, for those exposed to the full violence of the wind, only internal safe rooms and storm shelters offer a chance of survival, say researchers from the University of Alabama (UA) and other institutions.
"Once the roof over the garage is blown off, there usually is a significant hole into the main portion of the house," said Dr. Andrew J. Graettinger, UA associate professor of civil, construction and environmental engineering, and lead author of the latest report.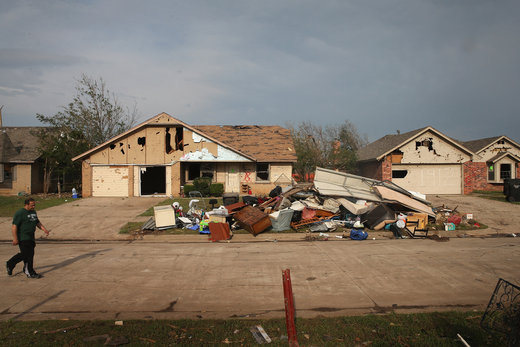 A home damaged in the tornado that ripped through Moore, Oklahoma in 2013 (Justin Sullivan/Getty Images)
"We need to consider the building components that are the starting points for damage that lead to loss of life, injuries and economic loss," he added. "If we engineer for these weak areas we can start keeping these buildings together during all but the strongest winds a tornado can produce."
On 20 May 2013 a tornado struck the city of Moore in Oklahoma. It was recorded as an "EF5" event on the Enhanced Fujita Scale, meaning wind speeds exceeded 200mph. It destroyed more than 12,000 houses and light commercial buildings in its 17-mile path, killing 24 people, injuring around 350, and causing an estimated overall economic loss of $3bn.
In the days after, researchers from six institutions went to Moore to investigate how timber frame structures held up. They found that the root of failure in houses was often the garage doors, especially on garages attached to the house.
When the garage door is blown off it leads to pressurization of the garage, loss of the roof and collapse of the garage walls. This, the study suggested, usually causes a breach in the main house which compromises its structural integrity.
Safe rooms
The team found more use of safe rooms and shelters in Moore than previous studies on Tuscaloosa, Alabama and Joplin, Missouri after strong tornadoes hit those cities in 2011. (Safe rooms are fortified structures built inside houses to protect residents from burglars or tornados.)
Andrew Graettinger examines a safe room, all that remained standing in one house when a tornado struck Moore, Oklahoma (University of Alabama)
It's probably no wonder – the EF5 tornado in Moore was the third major tornado to strike the city since 1999. When the tornado hit Moore in 2013 the city had 3,236 registered residential shelters – around 16% of all homes had them.
In the damage area researchers examined 75 residential shelters. Of those, 68 were below ground and all of them kept the householders, and often their neighbours, alive. Only one of the 75 shelters, an above-ground safe room, was penetrated by flying debris, which the research team attributed to errors in building the safe room.
The conclusion is simple: safe rooms save lives. "That's important," Graettinger said, "because while progress is made toward crafting building codes to protect against smaller tornadoes, in large storms or when retrofitting existing homes, a safe room is the best option to save lives."
Good news
The researchers' goal after all three events was to better understand the forces generated by large tornadoes and the distribution of wind force across a tornado's path, and to make recommendations for design codes.
From the data collected in 2011, the researchers concluded that light-frame wood structures simply won't withstand a direct hit from powerful EF5 tornadoes, or even EF4 ones, which produce winds stronger than 166mph.
Map showing the different wind speeds experienced along part of the Moore 2013 tornado's path. Darker spots are EF4 and EF5 strengths, while most are weaker (RAPID Deployment Damage Assessment Team/Centre for Advanced Public Safety)
But there is good news: the full force of these "big ones" is quite focussed, and they estimate that 85% of the overall damage area sees wind speeds of less than 135mph. Therefore, buildings on the edges of EF4 systems could be much safer through better design and construction.
Unlucky householders who find themselves in the central path of a big one, however, had better hope they have a safe room.
• Also working on the Moore study were Dr. David O. Prevatt, assistant professor of civil and coastal engineering at the University of Florida; Dr. Rakesh Gupta, professor of wood science and engineering at Oregon State University; Dr. Arthur G. Cosby, the William L. Giles Distinguished Professor and director of the Social Science Research Center at Mississippi State University; Dr. Robert Emerson, associate professor of structural engineering at Oklahoma State University; and Dr. Fred Haan, associate professor of mechanical engineering at Rose-Hulman Institute of Technology.
To view the full report along with an interactive map of the damage assessment, visit here