An international team of researchers is working on a $3.6m, three-year project to devise building blocks that can generate electricity from human and household waste – meaning homes could double as mini power and sewage treatment plants.
They say the "bioreactor walls" could be a digestive system for homes and offices, and are excited by the possibility of combining proven technologies to tackle global problems of energy scarcity and mounting waste.
Each block would contain a microbial fuel cell, filled with programmable synthetic microorganisms that can purify water and generate electricity as a by-product of microbial metabolism.
"The best way to describe what we're trying to create is a 'biomechanical cow's stomach'," said Rachel Armstrong, former TED Fellow and Professor of Experimental Architecture at the UK's Newcastle University, which is co-ordinating the project.
"It contains different chambers, each processing organic waste for a different, but overall related, purpose – like a digestive system for your home or your office," Armstrong said in a project press notice.
Added to the microbial magic is a high-tech element as well, since microbial fuel cells are naturally-occurring computers. The plan includes exploring how their mechanisms can be digitally coordinated.
A building made from bio-reactors will become a large-scale living organism– Professor Andrew Adamatzky, UWE
Also participating in the EU-funded project, which began in April this year and runs to 2019, are the University of the West of England (UWE), Bristol; the Spanish National Research Council; and the University of Trento, in Italy. The private sector is represented by two SMEs: Austrian research firm Liquifer Systems Group, and Italy's Explora Biotech.
'How on earth… ?'
The goal is to create a section of wall with ceramic-based blocks, or bricks, through which foul water can permeate, allowing the microbial fuel cells (MFCs) to do their work.
Leading on the development of the bricks is Professor Ioannis Ieropoulos (picured above), director of the Bristol Bioenergy Centre at UWE Bristol. He told GCR that MFCs are proven power generators. At this year's Glastonbury music festival in the UK, they were used successfully to power lights in a special block of urinals.
Ieropoulos said his team had already begun to modify off-the-shelf building blocks available in the UK, and tests were ongoing.
"Despite the fact that we've seen them working from day one, as we've seen with all of our microbial fuel cells, we would like to gather some more quantitative and qualitative data," he said, adding that they were experimenting with different ceramic combinations as well.
The challenge, he said, was redesigning the core components of a block or brick to allow fluid to flow through.
Rachel Armstrong, former TED Fellow and Professor of Experimental Architecture at Newcastle University, which is co-ordinating the project (Ted.com)
"Obviously, bricks, when they come together, form an impermeable wall," he said. "You basically have a sealed structure, so how on earth do you introduce liquids flowing in and out and still maintain that sealed structure that doesn't leak, or let air or noise through?
"There are all these challenges we need to address, and I'm not saying we would be able to do it in three years, but we are taking the first steps towards demonstrating this functionality, of liquid going in dirty, and coming out cleaner, and generating electricity in the process."
Why walls?
Asked why the team wanted to embed the technology in the structure of a building instead of making an appliance that goes in a closet, Ieropoulos said it was to encourage a radical rethink about our relationship to the environment.
Society, he said, had to revisit pre-modern approaches, which tended to let nature do the work, and to deal with problems at their source.
"Human waste is much better treated by nature itself, better even than wastewater treatment plants, if it is separated at source," he said. "We waste a disproportionate amount of clean water to flush away human waste, only to allow the problem to accumulate as it flows down the pipes, where it ends up as a huge problem at municipal treatment plants. It's simply not clever."
"When we start thinking about this," he said, "we have to ask, where do we put these technologies? On the roof? Underground? Do we need extra space in the garden? Or, can we think about embedding it, embodying it, in the architecture of the household?
"By putting it within the structure, it will help with the planning of the household so that it happens more efficiently."
Ieropoulos added that putting MFCs in outside-facing walls means you can exploit photosynthesis, which produces oxygen and helps break down compounds that other processes could not.
Computing bugs
While part of project's impulse is to go back to pre-modern approaches, another is very futuristic, exploring how a bio-reactive structure could be used as a living computer.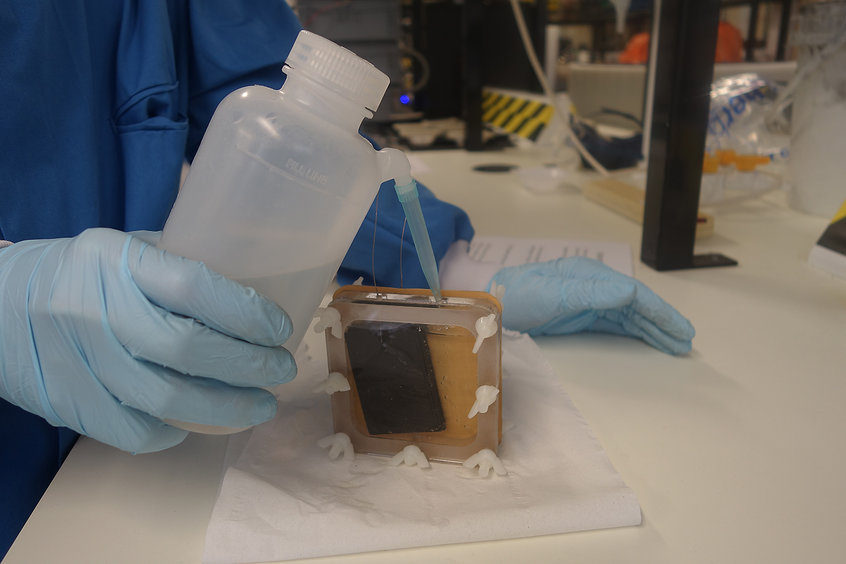 Microbial magic in the lab (UWE)
The MFC metabolism involves positive and negative charges, which means they can be treated as nodes of information processing, analogous to how a computer processor works. The phenomenon is known as "unconventional computation".
Professor Andrew Adamatzky, who leads the UWE Bristol team on the project, said each "smart brick" would be an electrical analogous computer, which held out the prospect of making the building programmable, and able even to respond to its inhabitants.
"A building made from bio-reactors will become a large-scale living organism that addresses all environmental and energy needs of the occupants," he stated in a UWE press notice.
"Walls in buildings comprised of smart bricks containing bioreactors will integrate massive-parallel computing processors where millions of living creatures sense the occupants in the building and the internal and external environmental conditions."
If the vision is ever realised, it could be very disruptive to settled approaches to plumbing. But Prof Ieropoulos insists it's no pipe dream.
"There will be a lot of theoretical work, but we are empirical scientists so we always drive for tangible, practical, real-life applications," he said. "We have taken the responsibility for demonstrating … how this thing can come to life."
Learn more about the project here.
Top image: UWE's Professor Ioannis Ieropoulos, at work on a microbial fuel cell (UWE)