The experience of urban building work as distressing and disruptive finds unique expression this summer in Karlsruhe, Germany, where the city centre has been given over to art exhibits on the theme of construction.
Capturing plenty of attention is a life-size installation by Argentinian artist Leandro Erlich featuring a house suspended by steel wires from a crane over the Marktplaz, itself a busy construction site.
While that may be odd enough for passersby, what is sure to provoke second looks is the tangle of roots protruding from the house's concrete floor.
Aptly entitled "Pulled by the Roots", the work could spark unease at the sight of something so human-scale as a dwelling having been violently wrenched from its foundations by the forces of modern engineering.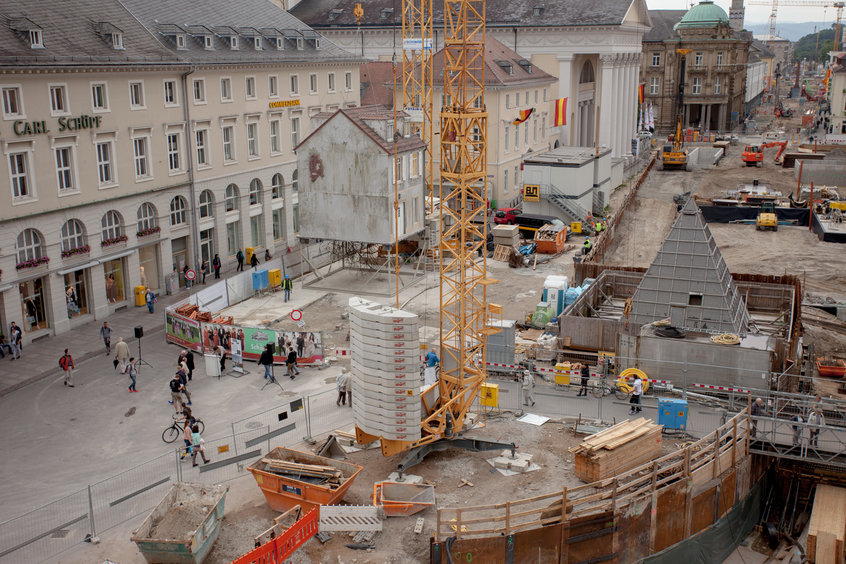 Erlich "explicitly addresses global themes, such as uprooting, migration, or simulation," says the city of Karlsruhe's Center for Art and Media (ZKM), which is staging the open-air exhibition through to September.
"Many inhabitants experience construction sites as a strain, if not a catastrophe," continues ZKM.
"The building process lasting a number of years is also made difficult by unforeseen disruptions and incidents. One frequently comes across images of an urban situation in which one is uncertain as to whether it emerged intentionally or unintentionally, whether it was the result of chance or accident."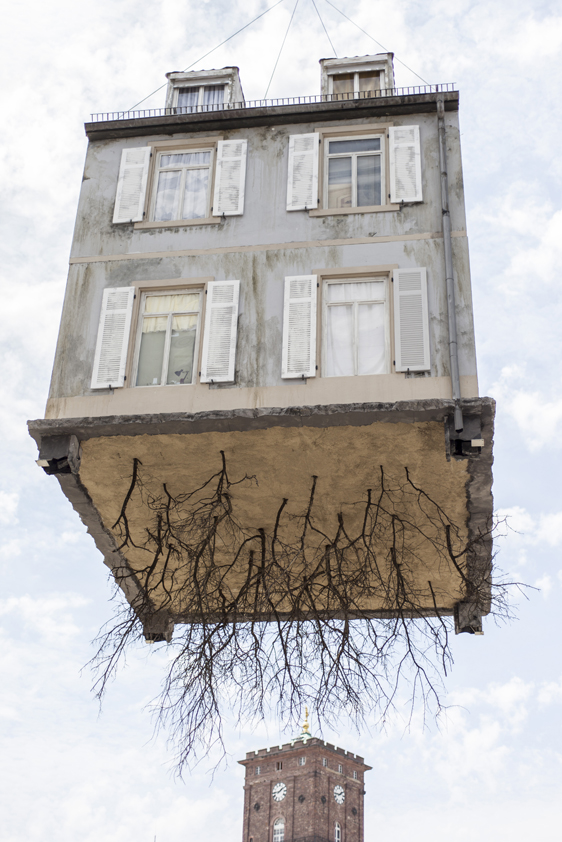 But the artist himself has offered a more positive interpretation.
He said the work highlights the tension between human innovation and the natural world, and the misguided tendency "to separate our inventions from the earth that sustains us."
"As living beings on an ever-changing planet, we can never be apart from the organic world," he told Dezeen, "the architecture that we create is part and parcel of our environment."
Presented by ZKM in Karlsruhe city centre until 27 September, the exhibition, called "The City is the Star", features large-scale sculptures, performances and interventions by international artists.
All photographs: Fidelis Fuchs © ZKM