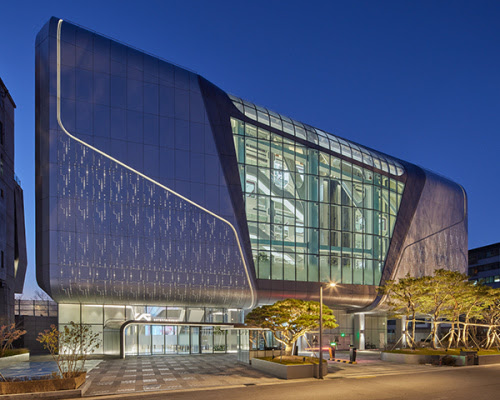 Construction has been completed on the Seoul headquarters of media company YG Entertainment, designed by Dutch architect UNStudio.
YG is the company that founded K-Pop, a musical style performed by bands such as BTS and Blackpink that has grown to become a global phenomenon.
Its new base contains seven office floors with views across a park, recording studios, capsule-shaped meeting and collaborative spaces and a large atrium with a garden.
UNStudio says the development fits YG Entertainment's ethos by supplying it with "the most uplifting and inspiring work environment possible".
The black exterior contrasts starkly with the white tones and geometric lines of the interior and is designed to look like a giant "urban speaker".
Building-integrated photovoltaics are inserted into the building's south-facing facade and on the roof.
The building is placed adjacent to YG Entertainment's existing headquarters in the Mapo District in the west of the city.