Serbia is about to sign a contract with China Road and Bridge Corporation (CRBC) to build the main section of a motorway between Belgrade and Montenegrin port of Bar.
The forecast was made by Dusko Markovic, the prime minister of Montenegro. He told the country's parliament on Wednesday (21 March) that Serbia would "sign a contract with CRBC in the next few days for the financing of the entire stretch of the motorway on its territory", according to the transcript of a response to a question in parliament on Wednesday posted on the website of Montenegro's government.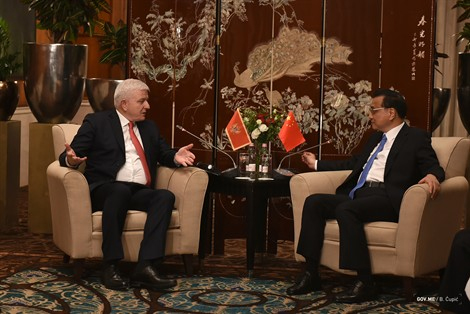 Prime Minister Markovic in conversation with his Chinese opposite number Li Keqiang in November (Government of Montenegro)
Montenegro began work on the project in 2015, and is waiting for Serbia to make a start on its part of the plan.
Markovic added that he planned to hold a meeting with representatives of CRBC and the Export-Import Bank of China to discuss the construction of the Matesevo-Andrijevica and Andrijevica-Boljare sections of the motorway on Montenegrin territory. He has already held talks on the project with Chinese premier Li Keqiang in November (pictured).
The Exim Bank has already extended a $944m loan to Montenegro with an interest rate of 2% and a six-year grace period.
Markovic also told parliament that he was expecting the EU to pay some of the cost of the motorway as it formed part of Europe's strategic transport network.
The government of Serbia began talks with China on the financing of motorway between Belgrade to Boljare, a town on the border with Montenegro, in November. The negotiations started after the signing of a €450m agreement with China Communications Construction Company for the design and construction of a 31km motorway between Preljina and Pozega, in central Serbia.
Image: Prime Minister Markovic in conversation with his Chinese opposite number Li Keqiang in November (Government of Montenegro)
Further reading: