The first Serpentine Gallery outside London will be built in Beijing, China.
The Serpentine Pavilion Beijing will be located close to the capital's Forbidden City in the WF Central retail park.
Designed by Chinese firm Jiakun Architects, the gallery will be the architectural centerpiece of the 690 sq m outdoor lawns of WF Central.
The design of the Beijing Pavilion is inspired by Confucianism, and the pavilion will display what Jiakun Architects describes as a "physical representation of the traditional pursuit of Junzi", a Chinese philosophical term used by Confucius to describe the ideal man.
The design is characterised by the figure of the archer in the form of a curved cantilever beam that has cables stretched between steel plates.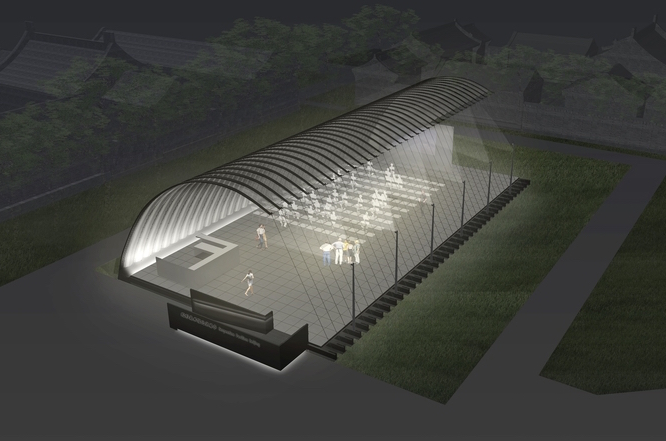 Jiakun Architects notes that modern architecture in Beijing has developed techniques to fight environmental factors such as earthquakes and fierce winds, but the pavilion will "conquer the harshness of those forces with softness".
Liu Jiakun, chief architect at Jiakun Architects, said: "What we ultimately want to present is a spatial installation that goes beyond mere function to push the boundaries of contemporary architectural practice."
The Serpentine Pavilion Beijing is due to open in May 2018 and will be on display for six months.
The pavilion's programme will be announced closer to the official opening of the project.
Images courtesy of Jiakun Architects