Seven teams are in the running to build India's longest road bridge, the $2.7bn Mumbai Trans Harbour Link, between the port city and its southern satellite town of Navi Mumbai.
The project is envisaged as an eight-lane, cable-stayed design that would cross 22km, including a sea crossing of 16.5km.
Among the bidders are China Railway Major Bridge Engineering Group, a subsidiary of China Railway Group, the second largest construction company in the world.
The Korea challenge comes from Daewoo Engineering & Construction and SK Engineering & Construction. An SK-led consortium recently won a $2.8bn deal to build the world's longest suspension bridge over the Dardanelles Straits in Turkey.
Japan is represented by IHI Infrastructure Systems, and there will also be Indian partners, such as Larsen & Toubro and the Shapoorji Pallonji Group.
When complete, the link will give a direct route between the city and the international airport being built at Navi Mumbai. The ultimate aim of the scheme, according to India's Economic Times, is to create an economic corridor between Mumbai and the industrial hub of Pune.
Jaijit Bhattacharya, a partner in KPMG India, told Bloomberg: "Mumbai has not been able to grow in every direction, the growth has mainly been in the south and north. The linkage will spread growth to the mainland, decongest Mumbai and cut travel time.
"This is one of the country's largest projects to garner so much interest from international companies."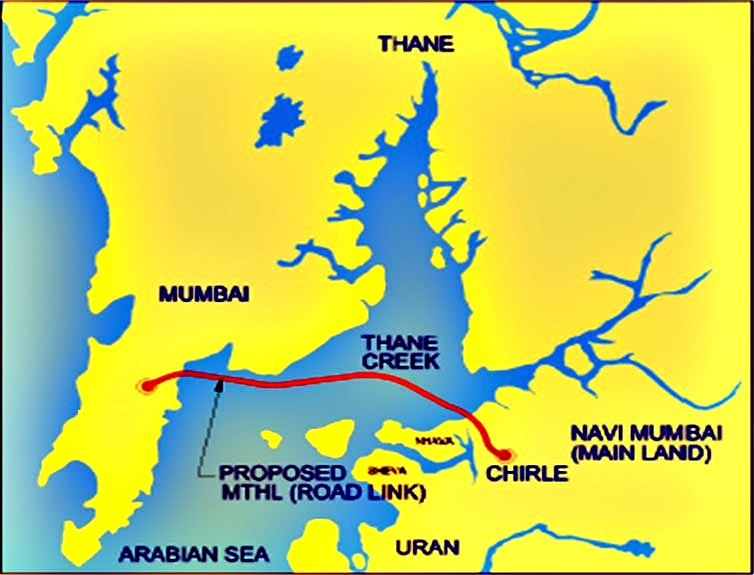 The proposed route of the harbour link
The tenders for the project will be finalised in April. Work is due to begin this year and to be completed in 2021.
The finance for the scheme will come from a preferential 30-year loan from the Japan International Cooperation Agency.
The idea of building a southern link to relieve the pressure on Mumbai has been under discussion, and periodically under tender, over the past 40 years.
The latest attempt was in 2011, when Arup and KPMG were appointed to carry out a feasibility study prior to letting the scheme as a public-private partnership.
The tender for the scheme later failed after none of the consortiums put in a bid by the required date, and one pulled out citing the "unfriendly and apathetic" attitude of the Indian government.
A video presentation of the project can be viewed here.
Top image: Mumbai Harbour, where the bridge will cross (Wikimedia Commons)
Further Reading: