A new-build university campus in Seville has become the first ever to be awarded a platinum certification by rating body Leadership in Energy and Environmental Design (LEED).
The campus is based around internal plazas
The 29,000 sq m building in the town of Dos Hermanas was designed by Madrid-based Luis Vidal + Architects as a traditional Andalusian square, grouped around a number of plazas.
This form has been developed over the centuries in response to the region's harsh summers, but has been adapted here to the needs of university life, and enhanced with technology.
LEED's platinum standard, its highest award, recognises that a building has attained 80 or more "points" based on its environmental performance and "human benefits".
The climate control plan was based on combining the academic disciplines into a single building with a number of internal courtyards. In siting these "plazas", the design team payed unusually close attention to how shading patterns change during the day.
Luis Vidal has also incorporated the fabric sails that it used for its design for Heathrow Airport's Terminal 2, to control sunlight.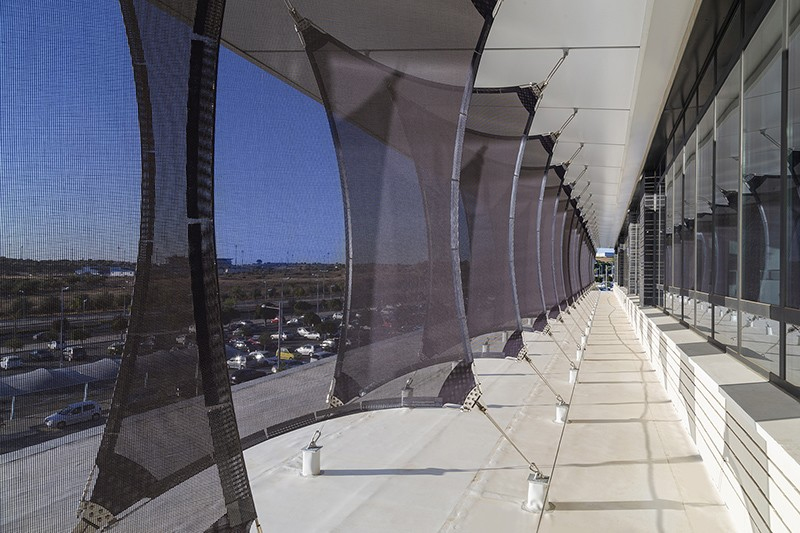 Fabric sails are used as vertical sunbreaks around the exterior of the campus
Twenty percent of the materials used for the campus were from recycled sources. The campus has photovoltaic panels throughout, a grey-water recovery system and a cistern to collect rain.
Landscaped areas occupy 12,100 sq m and include 173 specimens of 14 species of trees and 63 different species of perennial shrubs.
The €29m campus opened before the beginning of the 2019 academic year.
Top image: The campus offers a new interpretation of traditional Andalusian urban forms (All pictures courtesy of Luis Vidal)
Further reading: