Changi Airports Group (CAG) has named three teams of consultants to work on its planned Terminal 5, which is intended to double the airport's capacity and allow Singapore to compete for the title of Southeast Asia's main air hub.
The architectural design will be handled by US veteran KPF (Kohn Pedersen Fox), in partnership with London-based Heatherwick Studio and Singaporean firm Architects 61.
Heatherwick said it wants the huge building, set to be one of Earth's biggest, to avoid "soulless" airport design and be instead "a new piece of city".
They will be joined by a team of design consultants, including James Corner Field Operations, The Fountain Workshop, Speirs + Major, Lichtvision Design, and Bruce Mau Design with Entro.
"This is an extraordinary opportunity to break away from the sterility and soullessness we've come to expect from typical airport environments," Heatherwick's founder, Thomas Heatherwick, said. "We're excited to treat this next phase of Changi as a new piece of city and bring together the rigour of airport planning with an uncompromising interest in the quality of human experience for passengers."
Engineering services will be provided by two British multidisciplinary firms: Arup and Mott MacDonald, along with Surbana Jurong Consultants, Singapore's state-owned infrastructure and urban development consultant.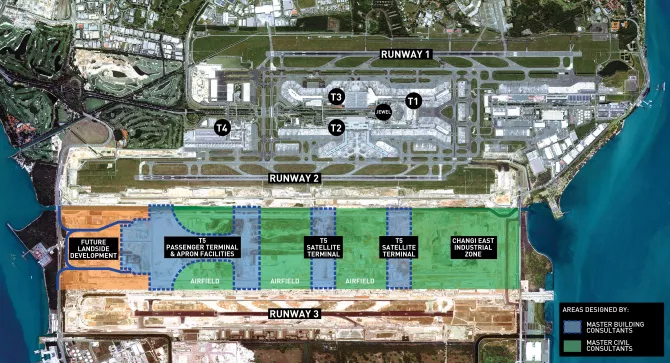 Changi Airport Group's diagram of what's going where
The same team, with the addition of Changi Airport Planners and Engineers, will also handle the design of taxiways, aircraft parking stands, roadways and drainage systems, as well as the connections for utilities.
The commercial areas in the new development will be handled by DP Architects of Singapore.
Terminal 5 will be one of the largest buildings in the world when it opens in 2030. It will be built on 1,080ha of reclaimed land, and will have an annual throughput capacity of around 50 million passengers, bringing the total airport's maximum capacity up to about 135 million people.
The scope of the winning teams' works also includes a satellite terminal, a ground transportation centre and a primary landside roadway.
Yam Kum Weng, CAG's vice president for development, said: "Today's award of the contracts comes after months of in-depth discussions with each of the shortlisted firms."
He added: "The development of T5 as a single integrated terminal will ensure that Changi Airport remains competitive as a leading air hub capable of serving the growing needs of our airline partners and taking the travel experience of passengers to new levels."
The terminal is part of the larger Changi East development project that will add a third runway for commercial jets to the two that exist at present, as well as more cargo warehouses.
Image: Heatherwick hopes to improve on the "soulless" modern terminal (Changi Airport)
Further reading: