Skanska has finished building the Municipal Pier and Pier Approach development in downtown St. Petersburg, Florida, a 26-acre waterfront space where city residents can dine, shop, swim and play.
The 1,400-foot-long Pier, the city's eighth, was designed by Rogers Partners, ASD | SKY, and landscape architect Ken Smith Workshop. The Approach was Designed by W Architecture, Landscape Architecture, LLC and Wannemacher Jensen Architects.
Project components include an interactive splash pad, a pavilion, market stalls, a 35,000-square-foot plaza, the five-story Pierhead building, and the Tampa Bay Watch Discovery Center.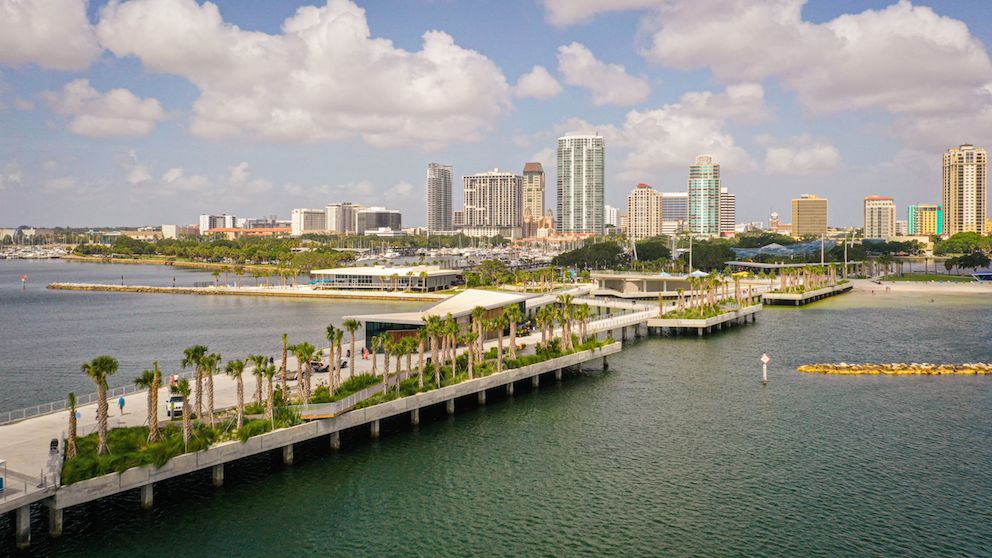 The pier is withstand hurricanes and sea level rises
Designed to withstand hurricanes and sea level rises projected for the next 80 years, the new pier incorporates parts of the old one, including five of its caissons.
New precast concrete pile foundations were driven around 75 feet below the mudline, and were made with the state's class five concrete, including admixtures for extreme marine environments. Their design lifetime is at least 75 years.
The City of St. Petersburg engaged the public to contribute art. One of the star installations is the "Bending Arc", a sculpture by artist and Tampa Bay native Janet Echelman.
The scheme is a 26-acre waterfront space where city residents can dine, shop, swim and play
This billowing net sculpture rises to 75 feet and covers 1.5 acres of the park above the trees. At night it is lit with LEDs.
 
"Skanska has been a tremendous partner for us in St. Petersburg and we will forever be grateful for both their expertise and their dedication to this ambitious, generational project," said City of St. Petersburg Mayor Rick Kriseman.
 
Top image: The "Bending Arc" is a billowing net sculpture that covers 1.5 acres of the park above the trees (All images courtesy of Skanska)