30 April 2014
A nine-year cartel investigation carried out by the Slovakian competition authorities concluded yesterday with a decision by the state highway company to exclude Skanska, Strabag and two local contractors from bidding for future roads contracts.
The decision is a particular blow to the Swedish contractor, which is presently the frontrunner for three road construction contracts worth a total of $850m.
The six firms implicated in the cartel investigations have already been fined $62m by Slovakia's public competition authority, a decision that was upheld by the supreme court in December, reported English-language newspaper Slovak Spectator.
One those affected, road contractor Doprastav, has already told the court that it cannot pay the fine, and has submitted a restructuring plan in lieu of the full amount. The firm is one of the largest infrastructure specialists in Slovakia, with a workforce of about 3,500.
The case stems from a contract to build a 26km section of the D1 motorway, which was let in 2005.
Skanska, Strabag, the Portuguese contractor Mota-Engil and three local firms, Doprastav, Inzinierske Stavby and Betamont, tendered for the work as part of three consortia.
The heaviest fine was handed to Mota-Engil ($19m), followed by Strabag ($17m), Skanska ($12m), Doprastav ($9m), Inzinierske Stavby ($4m) and Betamont ($180,000). Both the investigation and the resulting fines were the largest in Slovakian history.
The high level of the fines reflects the historic importance of the D1, which is intended to be the principal internal road in the country. When it is completed in 2020, it will become the main road link with the Czech Republic in the west and the Ukraine in the east.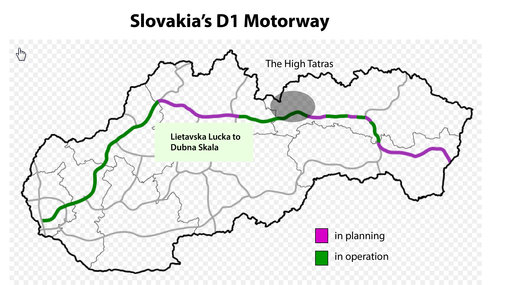 When completed in six years' time, the D1 will run the length of Slovakia (GCR)
It also reflects the frustration of the Slovakian government with the high cost of the project. The road has been planned since the 1930s, but work has been delayed by the need to tunnel through the mountainous terrain.
The contract that gave rise to the investigation covered the stretch of the D1 that passed through the 3,000m High Tatras mountains in the north of the country.
The three contracts where Skanska has put in the lowest bid are:
The section of the D1 between Lietavska Lucka and Dubna Skala. A joint venture between Skanska and Strabag submitted a bid of $470m.

The R2 motorway in central Slovakia, which runs between Zvolen and Pstrusa, which Skanska has offered to build for $122m.

Skanska is also excluded from a stretch of the D3 highway between Zilina and Brodno, which it has bid $260m before VAT.
The Slovakian contractors banned from bidding for future projects are Doprastav Inžinierske Stavby.
The four banned firms have the option of appealing against their ban with the Public Procurement Office, and Skanska and Strabag are considering such a move.
Skanska has already paid its fine. Skanska in Slovakia did not respond to a request for comment on the case.