11 April 2014
America's battle against Mexican contraband has taken a civil engineering twist with the recent discovery of "super tunnels" crossing the border underground, some furnished with railways.
Four such tunnels have been discovered this year, three of them this month alone.
The most sophisticated, discovered 3 April, runs 640m from warehouses in Tijuana, Mexico to an industrial park in San Diego, California. It had a multi-tiered electric rail system and an array of ventilation equipment.
Another, found the day before and also running from Tijuana to San Diego, had lighting, a crude rail system and wooden trusses. Smugglers accessed this 550m tunnel by climbing down a 70-foot shaft secured by a cement cover.
The builders had even installed a pulley system at the US terminus to hoist contraband up into the warehouse, said the US Immigration and Customs Enforcement agency (ICE).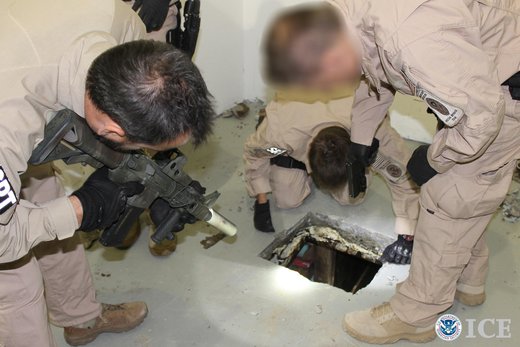 Officers search one of the tunnels running from Tijuana to San Diego
These two tunnels are the sixth and seventh found in the San Diego area in less than four years. The ICE said that, if laid end-to-end, they would stretch nearly two miles.
A third, incomplete tunnel was discovered on 5 April running from Nogales, Mexico 137m to Nogales in Arizona. A total of 101 cross-border tunnels have been discovered in Nogales since 1990.
"Here we are again, foiling cartel plans to sneak millions of dollars of illegal drugs through secret passageways that cost millions of dollars to build," said US Attorney Laura Duffy.
"Going underground is not a good business plan. We have promised to locate these super tunnels and keep powerful drug cartels from taking their business underground and out of sight, and once again, we have delivered on that promise."
Equally bullish was Drug Enforcement Administration San Diego senior officer, William Sherman.
"Once again," he said, "the Tunnel Task Force has eliminated a multi-million dollar drug smuggling venture and have reduced it to nothing more than a colossal waste of money on the part of the drug cartels."