The American arm of France's state-owned rail firm SNCF has issued a critical assessment of plans to build a high-speed rail link between Dallas and Houston in Texas, which are due to be put into practice this year.
The comments were made in response to the Federal Railway Administration's draft environmental impact statement on the scheme, which is known as the Texas Central Railway (TCR).
The French company suggests the following changes:
More stops, less distance: SNCF recommends that instead of TCR's high-speed line to Houston and Dallas, a "T-bone" design should be used, connecting Houston, College Station, Dallas, Fort Worth, Waco, Temple, Georgetown, San Marcos and San Antonio. SNCF say the line would only be 772km long, compared with TCR's 1,227km "Texas triangle".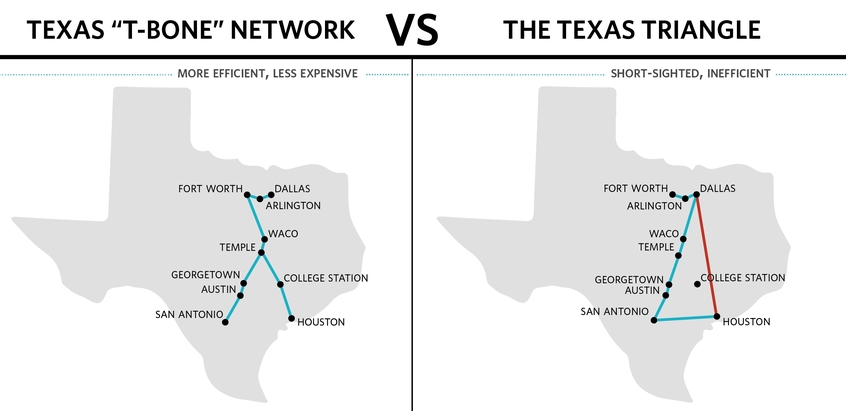 Image courtesy of SNCF
Private funding: SNCF speak out about the privately funded plan, saying that "the concept of private financing, while seductive, is virtually impossible to achieve with the financial debt-service burden of infrastructure that costs $45m per mile to build". It continues: "No country in the world operates a fully privately-funded high-speed rail infrastructure. Whether in China, Germany or Morocco, government funding is required to build the infrastructure.
High speed?: The draft statement says the rail line focuses on high-speed technology, which can reach 338km/h rather than higher-speed, which has a 200km/h limit. SNCF says the current proposal is based on a "single technology available from a single company" and that if the lower speed option were chosen, the trains could take tighter turns and use much more of the existing rights of ways. Rail lines for higher-speed trains cost $23m per mile for two conventional electrified tracks, compared with $45m per mile for two high-speed tracks.
Competition: TCR's plan eliminates the opportunity for rail competition because the Japanese Shinkansen bullet train technology is not compatible with the rest of the US' rail system.
Alain Leray, SNCF America's president, said: "The TCR project has been designed around the best interest of a single company, not what is best for Texans or the state's rail transportation future.
"If the federal government allows the TCR project to move forward as proposed, it would likely close the door on the future of high-speed rail in communities like Austin, San Antonio, Waco and Temple, while placing huge risks on the shoulders of local, state and federal taxpayers."
In October last year Canadian engineer WSP won a design and engineering role on the project.
SNCF's full comments to the Draft EIS can be found here.
Top image courtesy of Texas Central