The Vesterheim Norwegian–American Museum in Decorah, Iowa, has just been given an 8,000 sq m building designed by Norwegian architect Snøhetta.
The Commons, as the extension is called, will contain the Westby–Torgerson Education Centre and Vesterheim's Folk Art School, as well as studios, galleries, offices and a study room.
Work on the Commons began in 2018. It has an exterior wooden canopy inspired by boat designs such as the Colin Archer boat from Risør and the Restauration craft that landed in the US in 1825. And its timber frames with concrete footings are inspired by the stone foundations used in traditional Stabbur storehouses.
A large wooden oculus, the design of which simulates Saami tents known as "Lavvu", allows light into the lobby.
Snøhetta says the project recontextualises the experiences, art and crafts of Norwegian immigrants in the US since the 1820s.
The museum houses the world's largest collection of Norwegian-American cultural artefacts and Snøhetta's expansion melds traditional Norwegian and Upper Midwest architecture and landscapes.
The outside area, known as Heritage Park, will display immigrant-built structures brought to Decorah from the Upper Midwest region. The park's landscape is inspired by the "driftless" region of the American Mid-west and the wooded landscapes of Norway.
Ruth Schultz, Vesterheim's board chair, said: "Vesterheim Commons is a stunning structure with thoughtful and beautiful details throughout, but the vision of this project has always been about the people who will use it.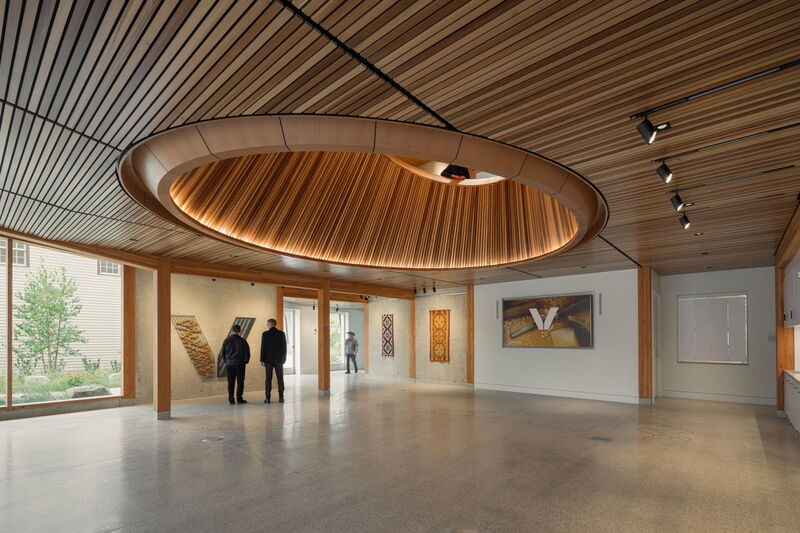 "Snøhetta's long-range plan for Vesterheim has guided this work, and now before us is a facility that links the past and the future, connects the museum collection to Folk Art School students, and enriches the Vesterheim visitor experience for those coming to Decorah or participating digitally through a new video and photography production studio."
Michelle Delk, a partner in Snøhetta, said: "We began working with Vesterheim in 2018 to envision a campus masterplan that reunites and enhances the museum and educational facilities through a memorable campus landscape.
"By adding new outdoor gathering areas that extend Heritage Park to Water Street, Vesterheim Commons creates new interior and exterior public spaces."