A task force of Japanese experts has warned the Governor of Tokyo that the cost of putting on the 2020 Olympics could be four times higher than estimated, and has urged her to consider scrapping the construction of three planned venues.
The experts warned that some venues would fall into disuse after the Games, and said existing facilities or temporary facilities should be used instead.
Tokyo's new governor Yuriko Koike in 2008, when she was a Member of the House of Representatives (Wikimedia Commons)
Tokyo's local Olympics organising committee criticised the report, saying it was too late to make the changes and that members were "embarrassed" by the conclusions, reports Japan Times.
The city's new governor, Yuriko Koike, convened the task force as part of a city-wide cost-cutting drive. If she accepts its recommendations, she could find herself in a showdown with the International Olympics Committee (IOC), which will expect Tokyo to keep the promises it made when it won its bid in 2013.
This is the latest setback for Tokyo's troubled Olympics preparations. Last year the Japanese government scrapped architect Zaha Hadid's design for a new national stadium, blaming spiralling costs. French investigators, meanwhile, are still probing allegations of bribery in connection with Tokyo's bid.
The report comes as fewer cities in Europe and the western world are stepping forward to shoulder the cost and risk of hosting the Games. Rome caused consternation when its mayor and council last month refused to carry on with its late stage bid for the 2024 Olympiad.
The task force reported last week that the original Games cost estimate of Â¥734bn ($7bn), given when Tokyo won its bid, was in danger of spiralling to Â¥3 trillion (£29bn).
Headed by Shinichi Ueyama, a professor of public management at Keio University, the task force said Games organisers had no realistic vision for either ongoing use of some venues, nor sustainable running costs, Japan Times reports.
Canoeing, volleyball and swimming
Artist's render of the Sea Forest Waterway planned for Tokyo Bay. Costs have spiralled to ¥49.1bn, from ¥6.9bn, say reports (Tokyo2020)
One culprit is a planned man-made island in Tokyo Bay, called Sea Forest Waterway, set to hold canoe slalom events. Its costs were running as high as ¥49.1bn by some estimates, way above the ¥6.9bn it was supposed to cost initially, Japan Times said.
The task force said canoe events could move to an existing boat park in Miyagi Prefecture, although it is nearly 400km from Tokyo, and would go against organisers' promise of a "compact Games".
Refurbishing the Miyagi boat park would also cost ¥35.1bn.
Another is the Ariake Arena, a new venue planned to host volleyball. The task force doubted whether the arena would host many sporting events after 2020.
"I believe no one has considered whether the capacities and designs of the proposed facilities are appropriate," Shinichi Ueyama said, according to Japan Times.
Volleyball and swimming events could each be moved to existing facilities, the task force said.
"Embarrassed"
The report drew a strong negative reaction from Tokyo 2020 organisers.
Former Prime Minister Yoshiro Mori, who heads the Tokyo 2020 Olympics Organising Committee, said that it "might be extremely hard to overturn plans that have already been approved by the International Olympic Committee", reports Japan Times. Mori added: "The decisions have been taken with adequate reasoning behind them."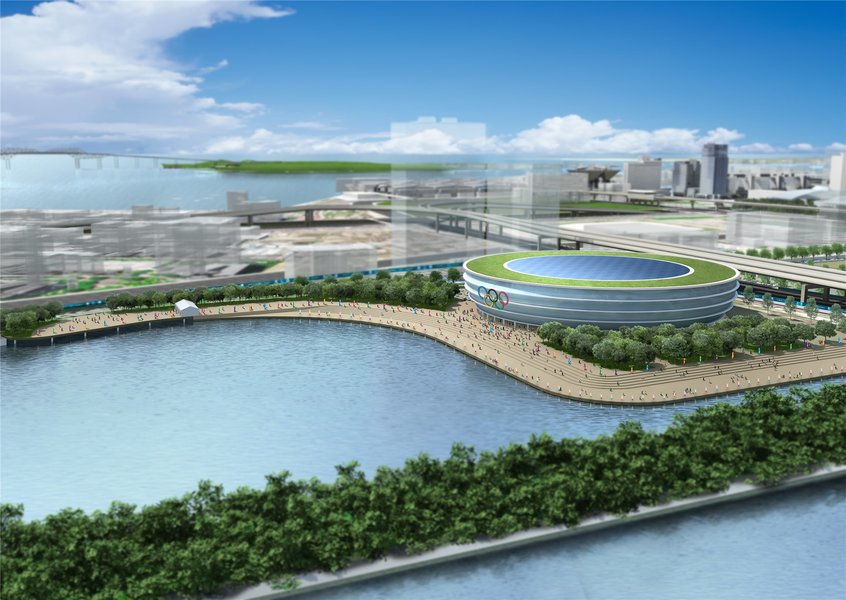 Artist's Impression of Ariake Arena, the venue planned for volleyball (FIVB)
Hiroshi Sato, vice director general of the organising committee, said members were "embarrassed" by the task force's recommendations.
"We have come to our arrangements as a result of long negotiations with the IOC," he said, according to the newspaper. "This report has come out very suddenly and we were surprised and embarrassed to hear such comments, and some IOC members said so, too."
However, the ball is in the court of Yuriko Koike, who became Tokyo's first female governor only in July.
She has promised more fiscal responsibility and convened the task force because she identified the Olympics as one area potentially ripe for savings.
"We cannot impose the negative legacy [of white elephant Olympic venues] on to Tokyo residents," Koike told reporters after the task force's report was released last week, reports newspaper The Guardian. "We need to consider other options, such as using temporary facilities, rather than constructing permanent ones."
Top image: The Tokyo Dome, earmarked as a possible venue for baseball in Tokyo 2020 (Dick Thomas Johnson/Wikimedia Commons)